Harlan Coben is a popular American novelist who is known for his mystery and thriller novels. He has written many books in his writing career as well as worked for television as well. Since we all love the thriller and mystery genre in the books and we just want to fund the perfect books in that genre. Although there are many authors who are writing books in this genre Harlan Coben's books are considered as one of the best.
As we have mentioned earlier he has written many books including the two series as well as some standalone. So if you looking for his books in order then you are in the right place. In this article, we have included all the Harlan Coben's books in order so that you can pick the book which came first or even the last one, the choice is yours. We have come up with this article in order to help those who are unaware of Harlan Coben's world and want to start his books but have no idea where to start. Before we start our list of Harlan Coben's books in the order we would like to tell you something about the author himself.
Harlan Coben was born in 1962 in Newark, New Jersey. He graduated from Livingston High School and then went to Amherst College to study political science. His interest in writing was developed in the final year of his college. But after graduating from college he took a job within the family (in a travel agency). His first book Play Dead was published in the year 1990 when he was just about 26 years old.
After that, he has written another standalone in the next year. And it was also the time when introducing his Myron Bolitar series, in this series he has written more than 10 books. Apart from this his Micky Bolitar series has also won hearts of his fans, it's a spin-off of Myron Bolitar series.
The Myron Bolitar series features the character of Myron, who has become a detective agent after his career as an NBA star has ended due to a knee injury. The stories are fast-paced, witty, skillful, and full of suspense. So any mystery lover will love his books. His stories majorly involve resurfacing of unresolved or misinterpreted events in the pasts, that include murders or fatal accidents. There are also numerous twists and turns which keep you hooked to the stories.
Now the bottom line is his, books are perfect but if you are a beginner you might find yourself in a dilemma of from which book you should start. See there is the series and some standalone's. So for the series, you might need the right order of the book so you don't start off with the wrong book. Even though people believe that you can start with any book in the series as well buy it will better if you read them in order so that you can understand the character development and their background stories.
That's why we have listed all the Harlan Coben books in order (series order) and also the standalone books as well. So you can easily understand from which book you wanna start. We have also written a plot description so you will have a better idea of the story.
Harlan Coben Books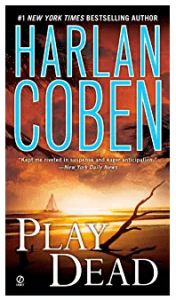 Deal Breaker is the first book in the Myron Bolitar series, and it was published in the year 1995. It was also his 4th published book. The book for the first time features the character of Myron Bolitar. The book has been loved by fans for its wittiness and suspense which makes it highly entertaining.

This time, Myron is involved in a case where his client, Christian Steel is also his friend. He is in shock after he received a phone call from his former girlfriend, who was believed to be dead for a long time now. Meanwhile, Myron is also facing some dark truths of the business where the truth can get you killed. He is trying hard to unravel the mystery of a family's tragedy, a woman's secrets, and a man's lies he is surely in a tough place.

The book surely is a perfect one to start the series or Harlan Coben's books. We are pretty sure you will love the book until the end.
"Read My Lips it's not a sportsbook; it is witty, deftly plotted mystery" – the cover of the books says these lines and they best define the plot of the book. The second book of the Myron Bolitar series which was published in the year 1996, deals with the murder of a tennis star.

The story starts with a woman being shot dead and her body being dumped outside the stadium, at the height of the US Open. Things start to get ugly when a young tennis player, a dirty senator, and a jealous mother gets caught in the case. Now Myron is sure that this isn't any simple case and he has become a part of a deadly game. In his signature style, Harlan Coben has written the story with witty suspense. Overall it lives up to our expectations so you should try it as well.
Fade Away takes Myron Bolitar to his past life when New Jersey Dragons to find a missing basketball star, Greg Downing. Greg and Myron were once a competitor both on and off the court and now that he went missing, Myron is forced to relived some past memories.

Myron is asked to play again but to investigate the matter and what has happened to the star player. He is pretty excited and anxious to play again. But soon he finds himself in danger physically and emotionally. It's a nice blend of past and present life of Myron.
This time you will be taken to the life of a professional golfer, Jack Coldren, whose son has been kidnapped right before his U.S Open game where he might win. But the mystery of this case starts with 23 years ago when Jack Coldren was about to win the U.S Open. Now the entire case has been twisted when Jack is murdered and his son has been released. The case also involves Linda also a professional golfer and wife of Jack.

Myron is trying hard to uncovers the mysteries and reveal the darkest secrets of the game. One thing is for sure, a big suspense is waiting for them so Myron must hurry before anything else happens.
The book was released in the year 1998 and it was one of my favorite books by Harlan Coben so you must read this one. This book features the character of Brenda Slaughter who is a star basketball player. She is at the peak of her career but facing troubles in her personal life. Her tragic past has always troubled her and now that her father went missing she needs the protection of Myron Bolitar more than ever.

This case was anyway troubling Myron as he is having a hard time solving the case and his relationship with Brenda has become personal from professional. He soon realizes how much he has to lose than just a case.
There are times when one of the closest people of yours is in trouble and there is not much you can do about it, and Myron is too facing such a situation. His colleague Esperanza has been arrested for the murder of a former client. Even though Myron knows that she is innocent, he can't help her because she has refused to corporate in order to determine her innocence. Now it's a big challenge for Myron, how he will help his colleague and find the real culprit behind all this. His investigation is leading to an unbelievable person.
Myron's personal life has taken a hit and nothing is going right. From his business to the health of his father, who just had a heart attack and struggling for his life. Another shock comes to Myron when his former girlfriend comes in his life with shocking news!! Her thirteen-year-old son is severely ill and needs a bone marrow transplant. To Myron's shock, he is the father of the child. The donor for the bone marrow transplant has vanished without a trace and now Myron will have to race against the time.

You will also find some shocking revelations and gripping cases of kidnapping and murder and the investigation further moves. This is definitely one of the best Harlan Coben books in order.
After a long gap, Harlan Coben published the eighth novel in the Myron Bolitar series. The story starts with a promise to his friend to keep his children safe from drinking and driving, has now turned into a missing case of a girl and somehow, Myron was the last person who saw her. The case is definitely one of hardest and it would be interesting to see how he solves it and what challenges he faces.
The story starts with a phone call from one of Myron's former girlfriend from Paris. She once had a daughter who died in a car accident long ago but now she thinks her daughter might be alive. And Myron is the right person to trust and find the truth.
Myron is now on the case of a missing husband of a tennis star. As the case moved up he founds something very strange as he encounters his sister in law, Kitty who disappeared years ago with Myron's brother. The story features various emotional aspects of Myron's family and how he deals with them.
The story features an event that happened ten years ago, the sons of two healthy families were kidnapped for ransom but no one ever found them again. And now one of the boys has been reportedly located by Myron and his friend Win. They must find out the truth before it's too late. This was also the last book of the series and fans are now waiting for the next book.
Play dead was the first novel in the Mickey Bolitar series by Harlan Coben. Mickey, who is the niece of Myron is also clever just like his uncle. The story revolves around his girlfriend who has stopped coming to school and everyone believes she has vanished. He is also suffering from the death of his father and his mother being in rehab. Amid all this, neither claims that she saw his father a few days ago!
The second book in the Mickey Bolitar series, which was published in the year 2012, has also appreciated by Harlan Coben's friends. This time Mickey and his friend are being a part of investigation for the murder of one of their friend Rachel. He is determined to find what happened to Rachel but at what cost?
Mickey has faced a lot at a very young age and now with the new high school year, a whole set of problems are awaiting him. He is trying to help her best friend meanwhile also engaged with his nemesis. It's definitely gonna give you a nice reading experience.
Play dead was the first novel by Harlan Coven which was published in the year 1990. If you are not into the series you can certainly start with this book. The book revolves around a newlywed couple where the husband went missing on the honeymoon.
Conclusion

Here we have listed all the Harlan Coben books in order. We hope you found the article helpful. So start with your favorite book of Harlan Coben and we are pretty sure that by the end of the first book you will be his fan. We have also written such articles for other famous authors, so go ahead and read them if you are looking for your next book series. Thank you for visiting us.