Longmire is a popular mystery novel series by Craig Johnson. You must have heard this name as it has been also adapted as a television series under the title Longmire by John Convey and Hunt Baldwin. The series first start with the book, The Cold Dish which was published on 29 December 2004. And after that, Craig Johnson has published many books and the series is expecting it's next book this year.
Walt Longmire who is a sheriff of Absaroka County. He has lost his wife to cancer and has a daughter who is an attorney in Philadelphia. There are going to be some references to his wife and their past life as well. Even after all this, he is a pretty great detective-ish, who is clever and catch killers and bring justice in the town. So it would be nice to see his adventures.
Before speaking much for the series we would like to tell you a little bit about the author, Craig Johnson.
He was born in 1961 and he grew up in Huntington, WV. He is a popular mystery movie who wrote mystery, detective, and crime fiction novels. He is popularly known for his Longmire series featuring the character of Walt Longmire who is a sheriff. He has written 15 books in the series so far and a few novellas and short stories as well.
Since there are many books in the series one can easily get confused about which book they should start with and what is the order of the Longmire series books. And that's why we are here to help you. We are now mentioning all the Longmire books in order so that beginners like you can easily find out the correct order and see which book they should start from. Even though some people say that you can pick up any book and read it as a standalone but that would be a mistake because the author has beautifully described the character developed which would help you to know certain things about their personality and their past life and you can make up can conclusion for who they are and what they are doing in the present scenario.
So go ahead and read the article to find out the Longmire books in order. We have also described the plot of the book so you can easily find out what kind of mysteries and plots you can expect from this series.
Longmire books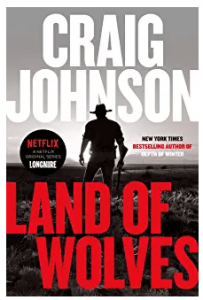 This is the first book in the long more series and it was published in the year 2004. The story for the first time features the character of Walt Longmire who is a sheriff. The story features the events that happened two years ago when two boys were put on a trial for raping a Cheyenne girl. But the story takes a twist when one of the boys found dead and Walt Longmire's hopes of ending his tenure are dashed.

As the investigation goes on, it becomes a challenge for what he should do next and how he should tackle the situation. The suspect list is long and they have never served the punishment even after they found guilty for raping that poor girl. But who has done this act of vengeance and will he be able to find the person out? It's one of the perfectly written mystery novels with strong characters and a supporting cast that you will definitely enjoy till the last page of the book.
Death without company is the second Longmire book in order and it was published in the year 2006 two years after the first novel in the series. The books quote "a life without friends is death without company". Even though Longmire has faced many difficulties and lost many people, one thing wasn't losing is his list of friends. He is now on a case of investigating a murder case of a woman named Mari Baroja. She was found dead with poison and now everyone is looking for answers. Who would kill an elderly woman in a care home and why? The answers require Longmire to take a look at the past 50 years in the mysterious life of the women.

Longmire does know that a shocking explanation awaits him at the end of the investigation so he should hurry up before the culprit saves himself. Once again you will love the cast and the strong storyline that you would enjoy.
The story takes a look at the personal life of Longmire when her daughter has been brutally attacked and nearly put to death. He is aware of the fact that his daughter who is a lawyer in Philadelphia has been a victim of political cover. But no matter what happens he must find out the attacker and protect his daughter.

Longmire along with his friend Henry Standing Bear is trying to find clues and answers for the attack and they are taking all the help they can. This crime fiction/mysterious novel unfolds the love of Longmire for his daughter and how he does everything in his power to protect his daughter and provide justice.
The story of the book starts with the body of a woman found dead in a ditch. The murder of this Vietnamese woman has raised many questions and everyone has started to find out the truths about the murder. They first need to identify the identity of the woman in order to start the investigation. And after they have done that they have found that the father of the woman has some strong attached to a 40-year-old case. Could that be the reason behind her death? Or they are just overthinking. There is the only way to find out the truth and this is to read the book and lose yourself in one another Longmire series books.
There are some cases that appear as too simple to be true and it's hard for genius minds like Longmire to believe them and one such case has been fallen to Longmire's lap. Wade Barsad, locked the horses of his wife in a barn and burned them! It sure sounds cruel and something he should be punished for, and that's why his wife Mary decided to shot him in the head six times.

Even though the case appears to be solved and simple, Longmire is finding it too hard to believe the confession of Wade's wife. So he decided to look in the matter himself and decided to go undercover. As his investigation moves, he finds out that everyone in the town wanted Wade to be dead and he must find out the answers to provide justice to Wade.
There are some books which just impress you with its covers and it's one of them (we are not suggesting to judge a book by its cover!). Another well-written cover books in order that you need to read. Here the book deals with the issues of multi-million dollar junkyard owned by Stewart Clan. Longmire somehow gets involved in this money matter and later finds it difficult to tackle the situation. But he is one clever man whole you love for his windows. So go ahead and read the book for good reading time (and something unique in the Longmire series).
The story deals with a sociopath named Raynaud Shade. He has now confessed a crime of murder of a ten-year-old boy which he committed ten years ago. He is an adopted Crow and said to be one of the dangerous men of the country and also a threat goes many innocent lives.

Longmire is asked to transport him. This was wholly a professional task but soon it becomes a person when Longmire learns who was the family of the dead boy! It would be interesting to see how Longmire handles such a personal case and how it affects him.
The eight Longmire book in order takes the adventure in Longmire's life to the next level. But don't worry it's not about catching up a criminal of unraveling the mysteries, it's something personal. His daughter, Cady is getting married in two weeks and her wedding arrangements are nothing but a disaster so Longmire and Henry try to make everything all right.

But as it's the life of Longmire nothing goes easily and things take a huge turn when they find out a dead body! Who is this and what had happened, are some of the questions that you will be asked throughout the book. To find out the truth just keep going and see read the book.
The story features a homeless boy who is roaming around the city in the hope that he would find his mother somewhere, but he finds no luck in that. But here comes our favorite sheriff who is always ready to help others and make their problems go away. He and his friends trying hard to find his blogger and reunite them.

But their search takes them to an interstate population who are equipped with heavy weapons and holds a vicious vendetta. It's definitely one of those stories which you can complete in one sitting because with every turning page you will find the story is becoming more and more interesting.
Any other name is the tenth book in the Longmire series order and the author has definitely done great work with it. This winter season, Longmire has been asked to take up a mercy case. Detective Gerald Holman is dead and Longmire's senior wants him to investigate the matter and find out the real culprit.

But as he digs deeper and deeper he finds out some dark secrets that can affect many lives and put many people in danger. With so much going on in his personal life, do you think he will be able to make it?
The bones of dinosaurs have been discovered and everyone is overjoyed with this. But soon things get complicated and Longmire finds himself in yet again a thrilling case. Will he able to solve this case? Just keep reading and find the answers yourself.
The book has been published in 2016 and it's was definitely one of the best books in the Longmire series. The book features the largest motorcycle rally in the world, but soon the things have been changed when a biker is severely injured. Things are waiting to get more complicated once Longmire and Henry start investigating.
This book in the Longmire series talks about the past life of Longmire and how he was when he served in the Army. This is definitely one of the best books as it unfolds many chapters of the Longmire's life.
The story of the book starts with Longmire's worst fear becoming true when he believed daughter Cady has been kidnapped. And for the worse, the government hasn't been helping Longmire. As you know there are many enemies of Longmire and that makes it, even more, subject of trouble.
It was the last book in the Longmire books which was published in the year 2019. Here Longmire is still struggling with his past experience. He is yet again in a bad condition and what is happening in the book? Well, you gotta read for it.
Conclusion

So these are the Longmire books in order that you were looking for. We hope you found the article helpful and now you aware of the right order of the Longmire books. We have also written multiple articles like this for popular series and author's books in order to don't forget to check them as well.

Alright then, here is the time to assay goodbye to you and we hope you loved our article and found it helpful. So keep coming here and find out such helpful content.