How many of us love gardening, I think a lot of us do. There is something calming about gardening and the way it brings us closer to nature. But some us just wants to do all this stuff via a gardening game, trust me you are gonna love the gardening games that are present in today's time.
The gardening games can be played by anyone (girls, boys, adults and even kids). Although there are tons of gardening game present but not all them worth your time so we have picked up the 10 best garden games to save you the trouble.
Garden Games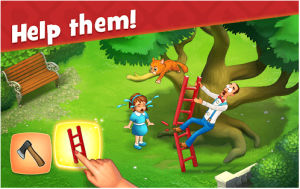 There is a reason why this garden game is on the no 1 slot in our list of best garden games, and that is you will find puzzles, garden decorations, and romantic love stories. What else you can expect from a garden game? Head out to this garden game and renovate the garden and solve challenging puzzles (that will be a good exercise for your brain).

You will be helping your aunt to renovate her garden, where you have to match flowers to solve the big blast puzzles. You will interact with lots of interesting characters that will give some twists and turns to your story.

You will also discover some hidden areas in your garden and have thousands of different flowers that will make your garden one of the best in the entire town. But your goal is to decorate, renovate and expand the garden and collect and match flowers.

The story is amazing and the gameplay and controls are easy and smooth so you will definitely have a good experience playing this free garden game.
I fell in love with this garden game just like its more than 100 million users did and they gave this game a high rating of 4.4 which is really huge. This reason for its massive popularity is its interesting storyline which is full of unexpected turns and twists. You will surely get addicted to this free garden game.

You are on a mission to restore a wonderful garden to its glory and make it as perfect and phenomenal as it was before. To do that you will have to decorate and renovate different areas and for that, you will have to beat match-3 levels. Get the bottom of its secrets and explore some unexpected things.

You will be playing the character of Austin and you will interact with many other interesting characters that will spice up the story. You will definitely have fun playing the game and keep a social network among your friends.

You will definitely love its hundreds of 3 match levels. Gardenescapes totally worth a try so don't miss out on this game.
3. Garden game for kids Android

Garden game for kids some of the best in this field where you can introduce this game to kids and make them.learn and appreciate the art of gardening and how important it is. You can grow many vegetables, fruits and even plant some of the beautiful flowers all by yourself. But that's not it, you can even start business by selling your organic fruits and vegetables to local markets or traders so that you can make some profit.

You can even open some flower shops, vegetable garden shops or build a greenhouse where you can directly sell your fresh stuff to customers. But for everything you wanna build, you have to prepare for it and do a task like removing the grass for vegetable gardens, make flower bouquets and when it comes to greenhouse you have to ensure the right conditions and appropriate environment for growing tomatoes, cucumbers, etc.

You will get many tools to build different sections and grow more than 20 vegetables and fruits along with realistic graphics and good sounds effects.
4. Royal garden tales – match 3 puzzle decorations Android / Iphone

You know what's better than a garden? A royal garden!! This is one of the best garden games for girls who want to experience the royal garden and live a life in the castle which has the best garden in the whole world.

Play match 3 game and unravel its many many secrets which lie beneath its roots and discover its mysterious history. One of the best things about this game is you can play this game both online and offline. Download this garden game and become the princess of gardens.
5. Butterfly garden mystery: scapes match 3 story Android

Experience the best garden games where everything is just magical. You will solve the puzzles and learn the art of magic with fairies and her friends. What's more interesting is, its storyline that is full of magical twists?

It has challenging match 3 games along with powerful boosters and unique gameplay. Play this dreamy game and make friends with other fairies and extend your storyline. You can enjoy this garden game for boys and girls without an internet connection.
6. Hidden objects garden – mystery games Android / Iphone

Hidden object garden is one of the best garden game for adults and kids. If you love finding hidden objects and you love being around the garden then this one should be your best choice.

There are over 1000 hidden objects to find in a mysterious garden and you won't get bored. The garden has many genome who will be your friend and help you. The 3D environment of this game is will definitely make you fall in love with it. Collect the points and find all the objects and you can even get hints if you want.
7. Fairy kingdom: world of magic and farming Android / Iphone

Fairy Kingdom is one of the best garden games for kids. If you love magic and farming then it should be the best choice for you. This game is based on medieval times and you will rule your kingdom. This game takes it to the next level where you can fight the evils and save the princess. Collect all the magical creature that lives in your land and build a city.
8. Fruits Garden – scape match 3 game Android / Iphone

If you are a fan of match 3 games then this one is just made for you! You will have to match 3 flowers of same colors before you run out of moves. You will need to complete the match 3 game withing required moves so that you can earn points to renovate your mansion and its garden.

Its garden is just amazing and full of fruits like blueberry, grapes and so many more. Head to the game where adventure is waiting for you. This free garden game is just a perfect treat for those who love the garden and match 3 games and you won't need any internet connection as it is completely offline.
9. Inner garden Android

This garden game is all about your creativity and your gardening skills. Inner garden will test your gardening skills and let you build your dream garden. You must know how relaxing the gardens can be and this game has tried it's very best to keep you relaxed.

As your garden will expand you will find many flowers and animals in your garden to accompany you. You won't find anything disturbing or distracting here so don't wait to download this best garden game and relax.
10. Garden mania 3 Android

Garden mania 3 is also a great garden game to download and play if you have always imagined yourself with a big garden and you know how to handle a garden. Here you can actually take full control of your garden and plant what you like. Harvest what you have planted and sell them and make a profit for yourself.

If that's not enough you can actually get a real pet and train him to guard your garden. Invite your friends to play with you and compete with them to have more fun. We couldn't complete our garden game list without this game as it is best known for its eye acting graphics and stunning animations. You won't be totally alone in this garden game as you will be accompanied by lots of interesting characters.
Conclusion:

So these were the 10 best garden games that we think you will like playing. We have tried to include the garden games that can be played by every section of its audience. We hope you have fun playing these garden games.