How many of you were the fan of Bob The Builder back in childhood days? I bet the number will be certainly high! Well, if I talk about myself I was surely a fan of Bob The Builder and even I am now. From that show, I have started to like all those building stuff and construction sites.
And that leads to my obsession with the building construction games. In this article I am going to tell you about some of the best building game that you will surely enjoy and these games can be introduced to kids too. Take a look at the article below and find out which are the best building games.
Best Building Games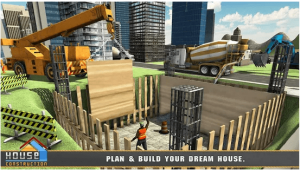 Building a game is one of the best in this field and you will be given a chance to become the building expert in this game. Over 10 million people have downloaded this game and most of them have loved it and even appreciated it. It's a really cool game to play if you are really interested in building.

You will be an owner handyman shop in this game and it is best in the town. Experience what it's like to be the best construction worker in the town. You will get many customers who will ask for your services like soil digging, building the houses or even demolishing them, cutting woods or build the wooden products, and many other cool stuff that you can do.

There are different kinds of materials, machines, and tools that you can work with and they all are really cool and fun.

You will find the following activities to do:-

Woodwork- cut the wood using different kinds of saws and build many different things like chairs, fence, doghouse, etc out of it.

Building the towers-  build different those of buildings and houses, using the coolest and biggest equipment like crane, which will help to lift heavy stuff.

Demolishing- its the best part of the game where you can demolish the buildings or houses, and go demolish them you have to use explosives that you will certainly enjoy.

Apart from these, you can do tile art, timber cutting, and many more things, so download this building construction game now and be the best builder in the town!!
2. City island 5 – tycoon building simulation offline Android / Iphone

If you are looking for an offline building game then City Island 5 should be the best choice for you. It is one of the best building simulation game where you will be mayor and you your city is a small town starting on just one island. But if you are not the person who gets satisfied easily then you must know you can unlock many other islands and start building your own city.

You will get an airship through which you can explore the world and find other islands. Unlike any other building construction game there your focus is on just one city, this one will actually expand your towns throughout the world. Each city will be on the different themes and unique in its own way and that ensures you that you won't be bored from this game easily.

Start your journey from a small town and lead it to a big city. In between all this, you will find many offline games that will reward you along with many quests and loads of content. It's really hard to put all the amazing features that you will get through this game so download this building game for Android and iPhone now and have fun building your city with a purpose.
3. House building construction games – house design Android

House building construction games is fully based on modern house building and you will definitely enjoy the best modern houses in the town. its millions of downloaders love the fact that this game allows you to create what we've in your mind. This building games for Android is free to download and play offline.

You will be amazed by the fact that it will give you the flexibility to design your dream house and you will be provided by every tool you will need to construct a house. So the only thing this game would require from you is your imagination and ideas to build a modern house. This game is really detail-oriented and you will have to put your real builder efforts into this one.

Enjoy being a modern house builder with all the required materials and cool constructions sites.
4. Designer city: building game Android / Iphone

This building game for Android and iPhone comes with a great responsibility where you have to build a small town and put your efforts to make it a big city than a metropolis.

Remember your goal in this building game is slightly different them other games as you won't be just building your city but you have to go make it perfect in order to attract more and more residents to your city so that it can evolve and reach to new heights.

You will not only build house and residential buildings but also big industrial buildings so that it can become a placement hub and more people emigrate to your city to find jobs and to start a business.

Build community buildings, parks and so much more. You will get an opportunity to build many new and cool things which you find in any other game.
5. Block craft 3D: building simulator games for free Android / Iphone

Who would resist a building game which has over 100 million downloads? The reason behind the popularity of this game is it lets you create or build whatever you can think of. You can even build an office tower if you want with its 3d blocks.

It has introduced many new features such as you can choose your character and play with animals. You can also enjoy its pixel graphics too. It's a multiplayer game so you can easily explore your friend's buildings and show them your constructions too.
6. White house building construction game Android

Now who doesn't wanna build house for president? I bet everyone will be interested in the opportunity to build 'the white house' and if you don't wanna miss out on this one then head to the play store and download this building construction game for Android.

Now since you are building the house for the most important person in the country, you will be given the best equipment and super strong materials to work with. Build your own design and construct on your way. In short, you will have fun playing this building game.
7. City island 3 – building sim offline Android / Iphone

This building game is 3rd installment of the city island series. You will love the way it lets you start your constructing journey with just one house and soon you will see yourself as the builder of a whole village. But the village is enough for you? I guess no that is why you have strategies your building planning and expand it to a city and then to a metropolis.

Make your city a tourist hub and build the most exotic city in the world. Experience your building journey on different locations of the world from desert to a swamp, trust me you won't get bored! This building game much more than you can think of so treat yourself with the best building game ever.
8. City mania: town building game Android / Iphone

This building construction game is all about your creativity and ability to build extraordinary and unique buildings. You will definitely have fun building the unusual landmarks and become the well known and reputable builder in the whole town.

You will find many interesting characters while you are on your mission to build a city and you can even be friends with them. Build your own city and make it popular by bringing more and more population to it.
9. Town building games: tropic city construction game Android

If you are looking for a building game that lets you construct whatever you want in your town with full creativity and this could be the end for your search of best building game. As you have found a barren island you will now have an opportunity to build your own town, but for that you will need cash, no? In this game, you will find your ways to manage your money and construct your own building in your city.

Challenge your building and construction skills and build those skyscrapers from scratch.
10. Megapolis: city building simulator. urban strategy Android / Iphone

Okay, this one my personal favorite building game and the reason behind this is, this game lets you strategies whole planning for metropolises city and you can't just resist to play this game (if you have the required builder skills!). This can be the reason behind its huge popularity and over 50 million downloads.

It is an economic-based game where you will be in charge of making the best metropolis city and that includes big infrastructures, science and tech research centers and big industries.
11. Town city – village building sim paradise game Android

This building game is made for everybody with its easy to play features and smooth controls. You won't need an internet connection to enjoy the construction fun. You can explore many unique islands and build a small town and lead it to a massive city.

It is slightly an economic game where you have to manage the cash and attract more population in your town. You will also get to build houses on different terrains such as grass, beach, dessert, etc. So its gonna be a fun building game to play.
12. Village city – island simulation Android / Iphone

This building game is specially made for those who love building farmhouses or small village houses. It's gonna be a different game than above-listed games which ultimately lead you to a bigger city and modern houses.

You will find many easy features such as its availability in 18 different languages so that people around the world can play this game.

Just make a good use of given currencies (gold and cash) and build parks, community builds, etc. Download this building game for android and have fun.
13. Hospital building construction games city builder Android

This one is a little different than other building games that we have listed, here you will be constructing a whole new city hospital building. But it's not gonna be an easy task as the building is huge and it will definitely test your planning and designing skills.

It will give you full flexibility to use your imagination and be as creative as you want. Its gonna be the best building construction game if you play it well.
As we are coming to end with our list of best building game, we are still getting you the best game there is, and this one surely can keep you glued to your phone if you like building and construction sites. Here you will be the boss of this city that you are gonna build and its fate is in your hand.

There is gonna be strategies, there is gonna be a map, and most importantly this game is gonna need your imaginations and efforts. And we can surely say that this is a kind of game that you don't wanna miss out on.
15. World building craft Android / Iphone

This is one of the best building game that comes with a simple gameplay and smooth controls. If you just wanna have fun building random buildings then this should be a perfect choice for you.

Craft anything you and build anywhere with 3D blocks, this game does want you to do heavy planning and make strategies. You will have fun with this building game for Android.
Conclusion:

So these were the 15 best building game that is available at the present time and you won't find any other better games. We hope you will like playing these games and they will do justice with your expectations.