Anime series are so popular these days and we have got to admit that they are pretty amazing too. Although the only thing that's not good about anime is that we have to find a perfect platform to enjoy our favorite content as not all the anime streaming apps are great and worth our time and energy.
Where a good anime streaming app can add a little bit of extra pleasure like that a not so good anime streaming app will ruin your anime series. To save you the trouble of going through every anime streaming app that is present on play store and finding the best one, we have prepared a list of best anime streaming apps. These are all you can ask for and we are very happy to share with you so that you can watch your favorite anime without any interruptions.
Anime Streaming Apps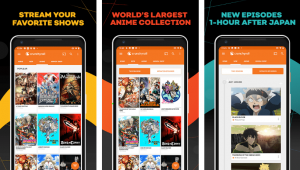 Crunchyroll has served its audience very well via its website and now this is present as an app so that you can watch your favorite anime anywhere anytime on your smartphone. The reason why we think it's the best anime streaming app 2021 is, the app will get you anime 1 hour after they have released in Japan.

You will find all the popular anime of Japan like Dr. Stone, fire force, demon slayer and so on. You can what h most of the popular anime for free and if you want you can buy it's premium subscription too (it will be free for the first 14 days!). This anime streaming app for Android holds the biggest anime library so you can get almost anything. You can also sync the app with your other devices too. And it's no ad policy makes it more amazing than ever!
2. HIDIVE: stream your anime and stuff Android / Iphone

The next anime streaming app would be HIDIVE, it's also a really popular app for watching anime. Just like Crunchyroll, it also provides you huge catalog of anime series. And you will surely find the popular ones. This anime streaming app also shows you some of the dubbed anime too.

The layout is easily designed so that you can find almost everything really easy or even search for what you are looking for. It's intuitive and user-friendly interface makes it very simple and easy to use. The quality of anime is also fine and you would definitely enjoy your favorite anime program without any interruptions!
3. Viewster – Anime & Fandom Tv Android

Get ready to enjoy all your favorite anime with Viewster! Everything in this is totally free and you won't have to pay a single penny to watch all your favorite stuff. The interface is easy to use and understand and you can easily search for what you are looking for from its huge collection of anime. They frequently update their collection of anime with fresh content.

The best features of this anime streaming app is that you font have to sign up or register, you can just download the app and start streaming right away. All the anime is provided in HD quality. Its homepage will show you every latest anime that has been added and you can personalized the newsfeed by following your favorite channel!
4. Tubi – free movies & TV shows Android / Iphone

Tubi is undoubtedly the best anime streaming app for android. Although its also known for providing movies and TV shows but they have also impressed the anime fans by providing the best platform for anime streaming! It frequently ads new anime content so that you don't miss out on anything.

You can syn this anime tv app through all your devices. It's really great that you can find everything in one place, so it's a multipurpose app and you will definitely love it. It doesn't show any ads so you won't be interrupted when you are watching your favorite anime!
5. Proxer .Me – Anime and Manga Android

Download proper.Me to become the part of the anime community! This anime tv app will get you all the famous german anime. You will get to connect people who share the same interests as yours. So you can discuss all the anime related stuff with them and suggest each other latest and best anime.

You will find all the latest anime in an easy manner by accessing them via this anime streaming app. You will definitely have fun with the huge content that this app has. Anime of many genres are present so explore the app to find something new every now and then!
6. Anime tv video – Watch Anime Free Android

If you are looking for the fastest anime streaming app then Anime TV Video might be the best choice for you. You will all the popular and latest anime on this app and all of them are free to watch! This app has the most amazing features that makes one of the best anime tv app. You can easily search for your favorite anime and watch all the anime in HD quality.

You can watch the episodes right from where you have left and it will also automatically play the next episode for you! It also supports tablet so you can enjoy the anime on a bigger screen. You can make your favorite section where you can add all your favorite anime!
Surprise! Well, this popular streaming app also stream some popular anime shows too. People often mistake themselves that this app only features movies and TV shows but it's Netflix and you can literally find anything here.

The best thing about Netflix is you can watch your anime shows on your smart tv to fully enjoy your favorite anime programs. It will definitely impress you with its collection of anime shows. So next time you are looking for the best anime streaming app you might wanna take a look at Netflix too!
8. Gotardo Prime – watch anime in sub and dub Android

Gotardo Prime is another best anime streaming app where you can find anime shows of different genres. All the anime shows have been categorized in different genres so that you can explore new anime shows in your favorite genre. You can easily save anime shows as your favorite so that you don't have to go through trouble of searching!

They update all the latest anime shows on a daily basis! It's a really simple anime streaming app where you can find what you desire to watch with subtitles and you can find some dubbed anime shows too!
9. Anime world – best anime app Android

Anime world is undoubtedly the best anime streaming 2021, why? Well for starters this app supports 14 languages.  And you can download an unlimited number of anime on your smartphone via this app. This app definitely worth a try so look for your favorite anime shows here.
Just like Netflix, prime also has a good collection of anime shows. It's surprising but you can definitely look for your favorite shows and you will definitely find something to watch!
Conclusion

So these are the best anime streaming apps that you can rely on when you wanna watch your favorite anime shows!