Have you ever dream of driving a fire truck? I guess we all have back in our childhood right! And no one can blame us, those giant fire tricks are one of the coolest vehicles that we have seen. Since it isn't an option for you to drive a fire truck in real life we still have an option that will help you feel the thrill of driving fire trucks and that is fire truck simulation games!
There are many fire truck simulation games present but not all of them are good enough to play. That is why we have gone through a number of fire truck games and picked the top 10 fire truck games which you will enjoy playing! So take a look at our list of best fire truck games for Android and choose your favorite game to play!
Fire Truck Games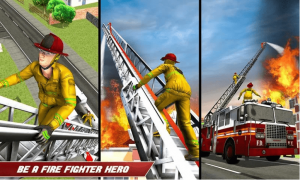 1. Fire Engine Simulator Android / Iphone

Fire Engine simulator is one of the best fire truck games to download and you will definitely love it for its many many great features. The game gives you a number of choices when it comes to choosing the fire trucks! It also a very vast city which you can explore and save people from fire.

The game is fast so you don't have to worry about loading screens that kills your mood to play. To make this game more interesting, the developers have introduced different weather situations and day & night effects. Overall it gonna be fun driving a fire truck and saving the big office buildings!
2. Fire Truck Real Robot Transformation: Robot Wars Android / Iphone

Fire Truck Real Robot Transformation is an amazing fire truck game to play where you will be fighting against robots! Surprised? Well, this game does that. Here you will be competing against robots for fire rescuing missions. It is one the most interesting truck game that you can find!

The robots want destruction but you will have to protect the city from these giant robots.

The 3D graphics are cool and you will find a number of interesting elements too. You will also like the sound and visual effects in this game. Take full control of your truck and engage in every mission to rescue people from fire in different parts of the city! Overall you will surely enjoy this fire truck robot game!
3. Fire truck driving Simulation Android / Iphone

With over 5 million downloads Firetruck driving simulation is one of the top games that you can find! The game features a big city which you can explore and you can drive your fore truck in the city too. This open-world fire fighting truck game has really impressed players.

You will always be on a mission to extinguish fires in the city whether it's a car fire or a building fire. It's a progressing game so you get to complete missions and unlock new fire trucks and other features of this game.

But it's not gonna be an easy mission because of its high AI where you get to deal with traffic in the city and show off your driving skills. The animations and vehicles look very realistic and you will also get different camera angles too. It's a simple and easy game which you can enjoy on your smartphone, tablet or Smart TV!
4. Fire truck Driving Rescue 911 fire engine games Android

Download firetruck Driving rescue 911  and become the city's most loved firefighter who gets there and save all the people from dangerous fires! It's free to download fire truck game and millions of people are playing this game and they have given their positive response for the game.

The game is all about fire rescue missions and how you tackle the situation when things go south. Get fun with this realistic fire truck game that lets you experience the 911 emergencies and save people!
5. Fire Truck Game Android

If you wanna live experience of a firefighter then Fire Truck Game is one the best game to download. Here you will find a full 3d large environment with realistic graphics. This game too revolves around 911 emergency calls were you to do everything in your power to save people from deadly situations.

The controls are super smooth and you will drive your fire truck around the city. Engage in different types of situations and save people that should be your ultimate motive in the game. You will definitely love it since it will feature the odd situations where you will have to use your brain and come up with a solution to save people!
6. Fire Truck Driving School: 911 Emergency response Android / Iphone

If you are looking for a more challenging fire truck simulation game for Android then this one should be perfect for you. It is best known for giving you challenging firefighter missions where you get to show off your fire truck driving skills too. The game features first-ever dual gameplay which will give you seamless fire truck driving experience!

The fire effects are realistic and so is the smoke effects. So it's all up to you how you come up with the best ways to save the people. Do response the 911 calls and instantly act on it!
7. Rescue Fire Truck simulator: 911 city rescue Android / Iphone

This fire truck driving simulator is an amazing game to play when you are in a mood to play with fire. You will be responsible for saving lives from big fires all around the city. Be the American fighter which everyone loves. Take part in all kinds of challenging rescue missions around the city.
8. Flying Firefighter Truck Transformation Robot Games Android

Ever thought about flying fire trucks? How it would be if they existed right? But let's leave it on scientists to come up with such an invention in real life and focus on this game where it actually is possible to ride a flying truck!

Since you are in a modern city you will need some modern vehicles to rescue people from fire and now that is possible with flying fire trucks. Download this fire truck game for Android now and enjoy some unique fire truck experience!
This fire truck game is truly made for kids so that they can enjoy the fire fighting and know the importance of firefighters To introduce this game to your kids and let them have fun with fire trucks!
10. Fire Truck Rescue Simulator Android

Fire Truck Rescue Simulator Truck is too a pretty great game where you get to involve with some advance fire trucks and extraordinary fire rescue missions! So download it now and have fun.
Conclusion

So these are the best fire truck games that you can play!