Dale Carnegie was a popular American author and he has also developed self-improvement courses too. He is long gone now but we still remember him for his amazing books. He has mostly written self-improvement and motivation books which make a huge impact on the readers as well. Most of us have heard about the famous inspirational book How to Win Friends and Influence People, and he has written plenty of this kind of book.
And if you are looking for Dale Carnegie books you are at the right place as we have listed all the Dale Carnegie books in this article. But before we present you the list of his books, we would like to share an autobiography of the author.
About the Author:-
Dale Carnegie was born on 24th November 1888 in Missouri. He was born in a farmer's family and gone to a one-roomed school. He was a public speaker even in the early days and soon after he completed his school, he went to State Teacher's College in Warrens-burg. In his early days of college, he used to sell correspondence course ranchers, and then he moved to sell other products such as bacon, soap, and lard for a popular company.
He became very successful at selling but he soon quit his current job to pursue his career as a lecturer. Although it wasn't his destiny either, he joined a drama school and also played one or two characters as well. At last, he ends up being a public speaker and he also started self-improvement courses as well. He has also served in the U.S. Army during world war I. His writing career began with his book Art of Public Speaking 1915. He got a high success from his book and his books are appreciated even today. He continued to work for his Self Improvement and other courses as well.
Since his books are standalone inspirational and influential books, you need not worry about reading them in order. But still, we have listed kit his book in the order of the publishing order so that you can easily find his books.
Now let's start the list of Dale Carnegie Books in order so that you can know about some of the most influential books by one of the greatest authors of all time. So let's start the list and find out the perfect books by Dale Carnegie to read (PS. They are all worth reading!).
Best Dale Carnegie Books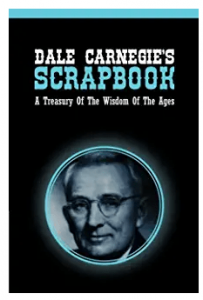 The name says it all. The first book by Dale Carnegie was published in 1915. Many people have the fear of public speaking or what we call stage fright, and that's why this book comes in handy and helps us in so many ways.

The author tells how we can practice the art of public speaking and how we can be good at it. The book tells us that we should practice the art of public speaking as more as possible and while we do that we should surround ourselves with positivity only. He also tells us that our confidence is the key which helps us to speak publically. So in order to speak publically, you have to develop your self-confidence as well.

The author describes the psychology of fear and how it affects our way of speaking publically. This one is a masterpiece (just as other Dale Carnegie books) which teaches us to speak up whether it's a public speech or a business meeting. Overall the book is highly recommended to all the people as it will help you in some way or the other.
This book was published in the year 1926. This one is also about public speaking but this time it majorly focuses on the business field and how one can influence people in the business world and get success.

The book features a number of chapters each will help you to talk freely in the business meetings or to influence people as well. The book features different helpful topics such as about the opening of the statement, talking in big gatherings, and influencing people with your talks. The book will definitely help you and it's highly recommended to the people who are struggling in the business world.
There are many reasons to read this book and you won't be disappointed if you are already a fan of Dale Carnegie as well as Abraham Lincoln. Here the boom was published in the year 1932 and it's the third book by Dale Carnegie.

On one fine day, Dale Carnegie was breakfasting at a hotel in London where he read an article that was devoted to Abraham Lincoln, he then decided to write a book on him. The book offers much more about the life of the legend. Here you will read everything about the great Abraham Lincoln from his early childhood days to his journey to the White House.

The book also talks about the hardship Lincoln faced in the White House and the war in the south. Here the book is inspiring and one should definitely read the book and know a little more about one of the most popular presidents of the United States of America!
This one is the next Dale Carnegie book in order which was published in the year 1934. The book offers everything that you can guess by its name. It is all about some facts of the well-known people that Dale presented in the book and try to inspire the people through them.

He picked a number of people, some were contemporary and some were from history and tried to present a few facts about their lives. We all want to know what makes the "well known" people famous and as popular as they are, and this book tries to satisfy our curiously to an extent as well.

Even though the personality is chosen by the author are from a century ago but still, it won't harm to read a little about them. There are some well-known personalities as well as some which we never heard before. The book is interesting enough to keep you entertained to the end, so do give it a read sometime!
And here comes one of the most popular books by Dale Carnegie and it is the same book that got him popularity as well. This book was first published in 1936 and it has been listed as the New York Bestseller book as well. The book has sold over 30 million copies and it has been also listed in the 100 most influential books by Time Magazine.

This is a self-help and none fiction book that will inspire you to get out of your mental rut and give you new hopes and ambitions. The book also helps you to make friends easily and how you can make people like you.

We can't say how exactly this book would help you but one thing is for sure, this book will definitely bring a change in your life. So if you haven't already read the book then it is time to read this classic influential book.
Five-minute Biographies was published in 1937. The book definitely amusing and you would love it if you like reading about the different personalities. The book consists of 48 different personalities and written a short biography on them. Here again, the people you would find in the book are from a century ago but still,l some of them are known now and it would be interesting to read about them as well.

The personalities come from different backgrounds and Dale beautifully described them in a short essay. It would be good to read if you don't have anything else. And reading about popular personalities are anyway fascinating. So if you are looking up for a pass time read by Dale Carnegie then this one should be your first choice.
Isn't the name enough to make you read this book? And this might be the reason it is counted as one of the most famous self-help groups even after publishing in 1948!

The author wrote this book because he was unhappy with his position in his life and he wasn't satisfied where he was in his life. He even started to the thought of himself as "one of the unhappiest lads in New York". And he wrote the book in order to stop himself from worrying about all this and just be happy for himself for a while.

The book has been interestingly written and it leads the readers to be aware of themselves as well as their surroundings. The book teaches us to focus on the important aspects of our lives and be thankful for the things we have. The book inspires you to stop worrying and start focusing on the good things. In a nutshell, the book does make us live our life with minimum worries.
The book was published in the year 1955. The book is more about the business world. This teaches us to save time and be more aware of the important things then trying to solve the problems of the business world.

So if you belong to the corporate world and looking for a book that can help you save your precious time and get better results then this might be the right book for you. Overall you might find it helpful.
The book was published in 1969 year after Dale Carnegie died. Even though the book was written by his wife, Dorothy Carnegie, the books largely based on the writings Dale Carnegie himself. The man has written about a number of people and gave us many amazing self-help groups and that's why it would be interesting to read about his thoughts as well.

So if you are a fan of the author then don't hesitate in reading the book where you will find a number of Dale Carnegie quotes and some of his writings as well.
Conclusion

So these are the Dale Carnegie books that you were looking for. Even though the books are a century-old now, they still inspire us and motivate us to do the right thing. His knowledge and his words definitely make us be more rational with our choices and our influence over other people.

So here we come to an end for our article and say goodbye to you, but don't forget to see other posts on the page for other authors and their books.