GPU is one of the key factors that we look at a laptop or computer before buying it. GOU is useful when it comes to playing high-end games or for other professional uses where you need the best graphic cards. But the reason people nowadays are slightly more interested in the GPU's is the mining of cryptocurrency!
Ever since the concept of cryptocurrency has been introduced to the world, everyone wants to have one and becomes rich! Even though the trend of cryptocurrencies keeps changing and the prices are not constant, they highly interest people and everyone wants to give their best to have one cryptocurrency. Whether it's Bitcoin or Ethereum or any other cryptocurrency for that matter, there is one ideal method to get a cryptocurrency and that is via the mining!
Cryptocurrency mining is a process of verifying transactions on the Blockchain and this can only be done by solving complex mathematical problems through your computer. And GPU is one of the most important elements of your computer that can help to solve these problems better. And that's why people are interested in getting the best GPU.
But the thing is there are a number of GPU's are present and choosing one of them is quite a challenge itself and that's where you need some help. In this article, we see going to get you some of the best GPU for mining which might help you to get the bitcoins. We have also listed out some of the features that you need to look into the best GPU for mining so that you can make the right decision. Go ahead and take a look at the following list and find the best GPU for mining.
Best GPU for mining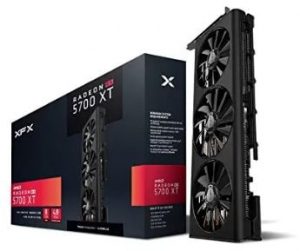 Our first pick for the best GPU for mining is NVIDIA GTX, which might be one of the most expensive options out there but it's also one of the powerful GPU cards that you can find. We are already aware of the fact that most of the best GPU comes from the NVIDIA and this one also lives up to our expectations. Here this one was released in 2018 and it still managed to come in the top GPU for the mining list.

The GPU shows an excellent Hashrate which means you would be able to solve some pretty complex algorithms on a minimum time scale. But it also comes with a huge power draw, 270Watts which means there would be huge energy consumption. It features 11 GB of memory which is quite large and enough. This one is powerful enough work on its own so if you don't have space for more than one card then it should be your first choice.
If you want the goodness of NVIDIA cards at an affordable price then this one should be your first pick. The card features 8GB of memory and 251 power draw so it should be a reliable GPU for mining.

This one is a top choice for gamers and designers along with the people who want to mine the cryptocurrencies. It features more CUDA cores. You would find 8pin+6pin power connections. It also features better hashtags than a number of other GPU so it can be your next GPU for mining.
AMD Radeon is another popular name that you would find when it comes to the best GPU for Mining. It features 8 GB of Memory. This one comes at an affordable price and you can afford it without breaking the bank or compromising with the quality and efficiency of a GPU for mining.

This one is popularly known for the 144p gaming performance but with 49.01 MH/s harshest it becomes one of the best GPU for crypto mining as well. It is able to generate $75 income monthly which is quite impressive. Overall it's a great GPU with a number of valuable features.
This one too a budget-friendly option for you and since it features the name of NVIDIA, you can easily trust it's quality performance as well. With 8 GB of Memory and 125W of power draw, this one surely makes a place among the best GPU for mining.

The reason for its popularity is its low budget and low power consupti9n, so users can buy multiple cards and still stay on their budget as well. So do try out this one for its Hashrate and make some money via mining.
AMD Radeon RX 5700 is our next choice for the best GPU for mining. This one features a 47.22 MH/s Hashrate which makes it quite reliable when it comes to doing heavy algorithms. This one too is popular for the gaming purpose but given its another high-end feature this one becomes the best GPU for mining out there. It comes with 8 GB of memory and 180W of power draw so there is plenty of good features. It also features a bowler-style cooler which keeps the card protect from the heat and heavy loading resulting in the efficiency of the working. It is capable of generating $70 of monthly income. The bottom line is, it's in the budget and comes with some of the great features, so you can surely trust this one.
NVIDIA 1080Ti is another GPU for mining which you would be happy to invest in. The fact that it's from the last generation and still comes in handy for mining makes it even more desirable. So if you don't have a budget to invest in the latest GPU then you might wanna look after this one as well.

It comes with 11GB GDDR6 of memory and 250W of power draw which makes it a decent option. The reason why people didn't buy it when it first came out was its super expensive price and the fact that it can be found on eBay or any other site for less than half of its original rate makes people want it more. So check it out and see if that's what you have been looking for!
7. AMD RX 580

This one has also launched almost three years ago but the reason behind its popularity in the present time is its amazing performance, decent Hashrate, and the cheaper price. This one too is available for a less price than the time it was first launched. People also loved the low power draw of 180W and it's 8GB GDDR5 memory as well.

Although it can't be considered the best GPU for gaming it surely is a catch for the miner given the features it offers to the miners. Overall do give it a look and see if that's what you have been looking for!
8. AMD Radeon VII

You might find it a bit power Hungary given the high power draw of 300W but it's one of the reasons why it is considered as one of the best GPU for mining as well. With 16GB HBM2 memory, it is able to perform various kinds of functions. And it also features a large bus width which makes it easier to mine the crypto-currencies like Ethereum.

It is considered at the same level as of the top GPU for mining but it's cheaper with more power draw. So if that's what you are looking for then you should be okay with this one as well.
9. NVIDIA GTX 1070

This one too is a blast from the past, that is, from the older generation but still has got a number of features that you might find desirable even in the present time. For starters, the GPU comes with 8GB GDDR5 memory along with 150 Power draw, which makes it effecting enough to mine the cryptocurrencies at the present as well.

This one is quite affordable and you don't need to spend a fortune either. Here you can simply go for the GP if you can't find anything in your budget at the present times. Overall the is no harm to look at it and see if that's what you want.
10. NVIDIA RTX 2070 SUPER

2070 SUPER model from NVIDIA is another popular GPU for mining from the past that you might be interested in. It comes with the 260W of power draw and 8GB GDDR6 of memory. It comes at a moderate price which you might find a little bit expensive given it's an older generation GPU. But here the thing is, it features a good Hashrate which makes all the difference in the prices.
So these are the best GPU for mining that you might want to buy. But before we say goodbye we want to share some of the features that you might need to look after in order to choose the best GPU for mining. Take a look so that you can make the right decision.
Features you need to look in a GPU for mining –

1. Hashrate

It refers to the hashes made by the GPU per second that is it reflects the problem-solving power of a GPU. Hashrate also impacts the speed of the mining of new coins which is dependent on a particular algorithm of a blockchain.
2. Memory size and speed

Memory is another important factor in the GPU that you need to consider in order to get the best one. In simpler terms, more memory would be better. The memory would help to mine the heavy size algorithm (as in the Ethereum blockchain).
3. Cooling

Collins surely is one of the most important features of the mining process and it's what will protect your graphic card against overheating, as you know the process is quite heavy and it puts a heavy load on the card which can be proven damaging to the card.
4. Overclocking ability

Overclocking is a process that enhances the efficiency of a device and in the case of mining, the overclocking would make the card 20-30 percent more efficient, which will help in the mining process. So make sure you know a little bit about the overclocking ability of the card.
5. Potential of the GPU

The card has to remain relevant to the mining process regardless of how long it's going to be. So you need to check the potential of the GPU card as well.
6. Bus Width

Bus Width refers to the ability to process the data per unit of time. This is another important feature that you might want to consider before buying the GPU. It highly impacts the performance of the card and the 256-bit setup would be pretty helpful.
7. Power draw

Power draw means how much electricity would be needed by the card to operate optimally. And it will be the running cost of the GPU.
8. Price

Last but not least, the price is another important feature to look after. It will be like the initial investment and you need to decide how much you can invest. Here the goal is to easily find your ideal GPU in your budget.
Conclusion

So these are some of the important features that you might need to look and consider before buying the best GPU for mining.

Here we have come to an end for our article The Best GPU for Mining! And we hope you liked it and found what you have been looking for. Thank you for being with us and we hope we were helpful.