There is always room for some good thriller books by a good writer! And one such writer is Clive Cussler. He has written numerous thriller books as well as some children's books. He has written numerous series such as Dirk Pitt, Numa Files, Oregon Files, etc. This article focuses on all of his books in the series order as you would love reading the character development as well as understanding the background of some characters.
About the author (Clive Cussler) :
Clive Cussler was born in the year 1931 in Alhambra, California. He went to Pasadena to complete his college education but didn't complete it as he was enlisted for US Air Force as a sergeant. He has served the US Air Force for a long time and also developed an interest in scuba diving. After leaving the Army he worked as a copywriter. He worked from home and took care of kids as his wife worked night shifts at the police departments. And there he started writing from 1965. It's interesting that it took him 18 years to publish his first novel which was the Pacific Vortex. Even the book was published even after releasing many other books in the Dirk Pitt series. And that's why it's recommended to read the Pacific Vortex (1983) first then the Mediterranean Caper which was released in 1973!
You would be surprised to know that he has written around 80 books in different series excluding his standalone and children's book. The main character of the Dirk Pitt series is named after his son and that's why it was very close to him. Clive Cussler died on 24th February 2020 with his family by side. Although he wanted that his Dirk Pitt series remains alive even after him!
In this article we are naming all the books by Clive Cussler in their series order so you can pick up the books and enjoy the thrill. Even though you can pick up any book of any series and read them as standalone but it would be better to read them in order if you want to do the whole series. Nevertheless, just start with the first book of any series!
Clive Cussler Books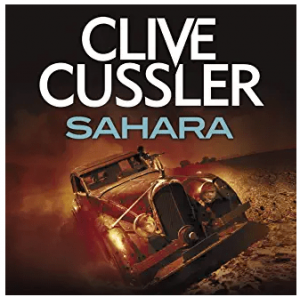 Even though the book was published much later in the year 1983 which was a decade later of his first published book in the series The Mediterranean Caper. But this book narrates the story from the beginning and that's why you should start the series with this book.

You will be introduced to the character of Dirk Pitt who is a deep-sea expert. He is also known for his expertise to save sea life. He is a military man as well as the director of NUMA! This time Dirk is on a mission to solve the mystery of Pacific Vortex (its similar to Bermuda Triangle). Many ships have been disappeared in that area and it causes a national threat. Now Pitts have to salvage whatever is going on in the Pacific Vortex before it's too late. People have loved the mystery of the book that just blows your mind!
This is the first book released by Clive Cussler. Dirk Pitt who is Special Project Director of the National Underwater and Marine Agency is on a mission to rescue the nation from an aerial attack. He has received the warning from Brady Airforce Base on the Greek Island of Thasos that a German Albatros D-3 from World War I era is coming towards them.

In order to rescue his nation from this attack, Dirk is playing a deadly game! He knows that he is fighting against Bruno Von Till who is a German pilot and has survived both the World Wars. He is also a ruthless smuggler who is definitely going to give a hard time to Dirk! You will love the book if you are a fan of action-adventure as well as a techno-thriller novel.
Iceberg was released in the year 1975 and it's the second published book in the Dirk Pitt series. The story starts with Dirk enjoying his vacation in California but soon he receives an order and has been sent to the Arctic. This is because an iceberg has been discovered that contains the remains of a missing yacht. That yacht was supposed to go to the White House for a top-secret meeting and now the entire crew is dead! It can't be a coincidence and that's why Dirk has been called to investigate the matter.

The story soon takes turns and twist when a multi-millionaire madman is trying to sabotage the balance of world power which may lead to collapsing of the world economy! This is definitely a deadly challenge for Dirk and it would be thrilling to see where will it leads the characters!
Raise The Titanic is the first book in the series that features the prologue that has been set way in the past and the main story revolves around the consequences of the incident in the present. The book was so popular at that time that it has been adopted as a film under the same title.

We all are aware of the maiden voyage of the great White Star Line ship Titanic. As we know there are a lot of things which were important on the ship that has also been linked with the ship. One such thing was an exotic mineral which was also carried via the ship. And now people are trying to recover it and to do that, they must bring the remains of ill-fated Ocean Liner RMS Titanic to the surface of Atlantic Ocean!

And who can be the better choice for this mission than Dirk Pitt himself who understand the ocean more than anyone else.
The story starts with an incident that happened in the year 1954. A top-secret plane, Vixen 03 have crashed (or at least everyone thinks that) but its remains were never found. It was carrying 36 Doomsday bombs, canisters armed with quick death germs of unbelievable potency. It was definitely seen as a threat to humans but not much investigating has been done at that time.

Now after so many years, when Dirk Pitt is on vacation has found some remains of the Vixen 03. But he shocked to found the two canisters missing. As you know they are dead so there are chances that somewhere someone is planning a disastrous plan to harm his nation! Will he able to solve the mystery? Let's find out in the book.
Next Clive Cussler's book in order is Night Probe. This action book is all set to give you a thrilling experience. America has been struggling with some financial difficulties meanwhile a treaty document has been discovered between the United States America and Great Britain. But the treaty has been buried deep in the Arctic Ocean and now Dirk has been assigned to discover the treaty and save the nation from national bankruptcy.

But the mission becomes challenging when Britain also sends their master Spy, Brain Shaw who has often worked with American agents but this time his mission is to stop Pitt from discovering those documents. It would be interested g to see what will happen next!
Next Clive Cussler's book in order of the Dirk Pitt series is Deep Six which was released in the year 1984. This time the fight of Dirk Pitt is against a deadly poison that has been spread through the coast of Alaska. The poison kills everything that comes with its contact. And the number of people have been already killed including several scientists and members of the Coast Guard.

When things go out of the hands, the government has no choice left but to dispatch the NUMA to invest gating the matter as well as finding out the source of poison. Things got pretty ugly when a team member of NUMA has been fallen victim to the poison. Now Dirk has sworn to find out the people behind all this and take revenge. It would be interesting to see if he will be able to take revenge from the culprits and the plot also takes a turn when there is a threat to the American government which can lead to the fall of America!
Cyclops is a book that is definitely gonna take you to the thrilling experience. The story starts with a wealthy American financier being disappeared who was in a treasure hunt in an antique blimp. Meanwhile, Dirk discovers a shocking truth about a covert group US industrialist who has put a colony on the moon which is a secret base that will defend at any cost. This move by them hasn't been appreciated by the Russians and they are now on the verge of taking revenge by a strike on Cuba.

Here Dirk is not only fighting for his nation but for the Earth! And he must stop them before he runs out of time!
By the time you reach this book, you must be well aware of the action-adventure and thriller theme of Clive Cussler's books. And this story too lives up to your expectations. The story starts with incidents that happened way back in the past and talks about Romans and their long-buried treasure. And now Dirk is somehow involved in this.
This Clive Cussler book takes you all the way to the world war era! In the year 1945, the third American fighter plane carrying the nuclear bomb also took off but never got through as it was shot down over the sea off the coast in Japan. Now after so many years Japan is trying to make a revenge plan against America. So in this book, you will see the conspiracy against the nation and how Dirk Pitt will be able to save his nation once again.
This time Dirk is in Egypt searching for a treasure. But there he met an American scientist who is searching for the reason behind the epidemic in North Africa. The reason for this is the growing pollution in the seas. And that's Dirk try to fight for the environment against the top African industrialist.
This one also explores the events that happened in the past and their consequences that are affecting the present. Nearly five centuries ago, a fleet of boats with golden hoard landed on Island, and then they vanished. Now archaeologists are behind the gold. The story features the blends of corruption, danger, and betrayal!
In Shock Wave, which is the 13th Clive Cussler book in order, Dirk is up against a Diamond tycoon. You will be heading to Australia where the reign of terror has been started by the diamond tycoon. And Dirk is trying to put a stop to all this.
Mysterious activities around a peaceful lake in Washington has caught Dirk's attention. He is still resting after getting severely injured in the last mission. Although this one brings the most formidable for that Dirk has ever encountered.
Ready to discover Atlantis in this action-adventure novel by Clive Cussler. You will be exploring a series of the timeline that features many discoveries as well as the vanishing of several humans and things. Read the book and find out Dirk is up to now. For a true Dirk Pitt fan, this one must be a great story to read.
Conclusion

So these are the Clive Cussler books in order that you wanted to know about. We hope the article has helped you to understand the perfect order of series. He was a great author and we are pretty sure you will become his fan after completing the first book you will pick.

We have also done many other articles for popular authors and the series in order books so go ahead and check them out as well! Thank you for visiting us.