Water and electronics do not go hand in hand and that's why all the new electronic models are coming up with revolutionary waterproof technologies. From smartphones to smartwatches everything is becoming waterproof and we don't have to be worried about dropping our phone in water or using it in mild rain.
In this article, we are going to talk about waterproof tablets, which are becoming very popular these days that some people would go for tablets rather than laptops. Tablets are easy to carry around and use and they perform almost all the functions of laptops and make sure we get everything we need.
Here we have a number of tablets that are waterproof but don't only need the waterproof features in our tablets, we want the best waterproof tablet. So here we have a number of waterproof tablets that we liked the most in the recent and. And here we are reviewing the best waterproof tablets so that you can choose the best one for yourself, we have also included a buying guide for the waterproof tablets which tells you the factors to consider in the waterproof tablets.
Best waterproof tablets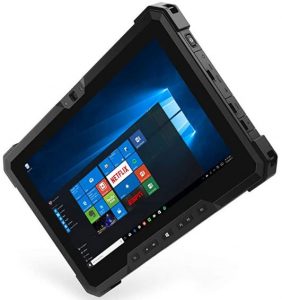 Samsung is a well-reputed brand and we all are aware of it. So our first pick for the best waterproof tablet has to be from the Samsung! There are so many amazing features present in the Samsung Galaxy Tab Active2 which would make you wanna buy it at the first glance of it.

For starters, the tablet is lightweight and not bulky at all which makes it easier to manage. This one also features face recognition and fingerprint scanner for the better security of your tab.

If we talk about its waterproof feature then it comes with an IP68 rating which means it can be safe under the 5 feet of water for about 30 minutes. It also features military-level ruggedness so your tablet would be safe from the external harsh factors. The screen will be responsible even in the rain.

It also features Android 9.1 which is a newer version of Android and a powerful processor that ensures the best performance by the tablet.

Key Features of the Tablet:-

A newer version of Android

Features 8 MP camera

Comes with security features

Highest rating of IP68
2. Getac UX10

The next one on our list of the best waterproof tablet is Getac UX10. It's not just a waterproof tablet but its fully-rugged. The tablet is made for people who work in an environment where there are too many dangers to your electronic items or just for the careless ones! The tablet is fully protected to withstand the harsh surroundings or accidents. It's also a versatile tablet, so you would be happy to have this one as your next waterproof tablet.

It features Windows OS and comes with 8 GB of RAM and variable storage spaces. It has an 8MP rear camera and 4200mAh battery. Overall it's quite a catch to consider as your next waterproof tablet.

Key Features of the Tablet:-

Fully rugged and well protected

Good performance

Versatile
Vanquisher is another great waterproof tablet to buy. It comes with the Windows 10 operating system which feels more professional. The tablet, as its name suggests, is 10 inches in size and makes it a perfect size to handle. It also comes with a sunlight legible screen so it will be useful for outdoor uses.

Although it's an IP65 rated waterproof which means it would withstand the light rain and splashes. The tablet comes with a 10,000mAh battery which would last longer. This tablet is known as a true portable tablet as you would be connected with the internet always via the 4G LTE technology.

Key Features of the Tablet:-

IP65 rated waterproof which makes it safe enough to handle a minor dip in the pool or light rain or water splashes

Comes with Windows 10 OS which makes it powerful

Long-lasting battery life
HiDON is also a popular name that came to our mind when we were looking for the best waterproof tablets. This one is for those who are looking for the smaller-sized tablet but the powerful one as well. The tablet features Windows 10 Operating System, so you can be pretty creative and productive with this tablet.

Speaking of its waterproof ratings, it is an IP67 rated waterproof tablet which means it will save your tablet it got into a pool or you dropped it in your bathtub! Uts a 2 GB RAM tablet with an Intel processor so it should work decently and quite smoothly. Although it's a little outdated when it comes to the technology as it comes with 3G LTE.

Key Features of the Tablet:-

It comes at a very affordable price

IP67 rated which makes it highly resistant to liquids.

Windows 10 OS and good connectivity
Xenarc 700CSH 7 has also made its place on our list of best waterproof tables snd it surely will impress you when it comes to the water-resistant ability. With IP67 ratings it can withstand under 1 meter of water for 30 minutes which is quite impressive.

Speaking of its other features it comes with Android 7.0 Nougat which is a rather older version but would be useful to perform light tasks efficiently. Features 7 inches of the screen which is small but would be perfect if that's what you want. It has a 9,650 mAh battery which should be reliable. 3 GB of RAM is also decent and make sure it runs smoothly. Overall it's a pretty good tablet to spend your money on.

Key Features of the Tablet:-

IP67 rated waterproof, which makes it quite desirable

Good performance and not much of lagging issues with 3 GB of RAM

Good features within a limited budget as well
Panasonic is also a reputed brand for electronics and they haven't failed us with their waterproof tablet either. This one has well suited for the outdoors and the non-conventional environment because of its amazing design and not to forget the IP65 ratings. It's water-resistant and can withstand the light water splashes and water drops.

The tablets come with Android version 9.0 and can perform smoothly. Its battery life isn't long though so you might have to keep a portable charger with yourself if you working outdoors.

When it comes to connectivity it supports 2 SIMs and can also be connected via Bluetooth and USB ports.

Key Features of the Tablet:-

Ideal for outdoor use with the bright display screen and IP65 ratings

Lightweight and thing design so you can easily carry it around.

The rear camera is 8MP and the front is 5MP
7. Getac F110 Rugged Tablet

Getac F110 is also one of the best waterproof tablets you are going to find out there. The best part is, it's one of the lightest tablets as well weighing only 139g! So if your priority is the lightweight then you should definitely consider this one.

It comes with IP65 certification which means its water-resistant. It comes with a dual battery (which can be swapped) which ensures long hours of entertainment and work.

Key Features of the Tablet:-

Dual swappable batteries

IP65 certified water-resistant

Lightweight and budget-friendly
Next on our list of the best waterproof tablet is from Dell. You might just think of Dell as a popular laptop brand they have also given us some of the best tablets as well. This one comes with a number of amazing features at a very reasonable price that you would be able to afford easily.

For starters, it is IP65 certified water-resistant that can withstand harsh climatic conditions. Next what you would like about the tablet is its long-lasting battery life that can run for 34 hours. It's an overall feature-packed tablet that you can rely upon.

Key Features of the Tablet:-

Features Windows 10 Pro OS

8GB of RAM and 512 Storage Space

Made for outdoor use
9. Lenovo 10e Chromebook Tablet

If you are looking for the best waterproof tablet for kids then Lenovo 10e should be your first choice. The tablet is quite light in weight and is ideal for kids. It comes with 4GB of RAM and 32GB of Storage Space which should be more than enough for kids. It's a pretty rugged tablet that can withstand water, dust, and variable temperatures. The battery lasts for more than a day! The processor makes sure it's a smooth operation and since it's more of a learning tool for kids it should be meet your other requirements as well.

Key Features of the Tablet:-

Kids friendly design and operation

An optional keyboard can be attached as well

Can withstand dust and water and is well protected
So here we have mentioned the too waterproof tablets that you need to know about. These tablets are also considered as the best ones by the customers who bought them as well as by the tech experts and we really hope that you would find the perfect waterproof tablets that you have been looking for.

We are not done here, we have also brought you the buying guide for waterproof tablets that will help you to choose the best tablet for yourself. So go ahead and take a look.
Buying Guide for Waterproof Tablet

1. Waterproof ratings

Just the term "waterproof" isn't sufficient for us to decide whether the tablet would be fully waterproof or not. And not all the waterproof tablets come with the same rate of responsibility from water. That's why you need to take a good look at the waterproof rating of a tablet. The "IP" ratings would tell you how resistant the tablet is for the water. It also tells us the dust-resistant power of a tablet. The best waterproof tablet comes with IP67 and IP68.
2. RAM, Storage, and Processor

The RAM and the Processor of a Tablet are very very important as its what indicated the functionality and the efficiency of a tablet. The best tablets come with a RAM of 8GB or 16GB and similarly, it should have a storage space of 256GB (or at least meet your requirements space-wise). The more RAM and more storage space ensure a great performance without lag issues.

The processor also directly proportional to the powerful performance of a tablet so do pay attention to the processor of the tablet before buying it.
3. Battery

No one wants a tablet that only runs for a couple of hours, so make sure you choose the tablet with a large battery backup that can meet your needs. You should also look at the time taken by the tablet for a single charge.
4. Operating System

The operating system is an important aspect of a tablet that you should not take for granted. There are iOS, Android, and windows type of Operating System and you can choose one that you are most comfortable with or the one that you find more efficient. Every OS comes with its own set of pros and cons, so do some research if you are confused and then go for the best one for yourself.
5. Screen Size

Last but not least, you should also consider the screen size as one of the most important criteria for choosing your next waterproof tablet. There are various screen sizes available, and the sizes start from 6 inches to 18 inches. You should not buy too large or too small screen sized tablet and that's why you need to find the perfect size for yourself.
Conclusion

Apart from these aforementioned criteria, you can also include other criteria like the weight, or the budget for getting the best waterproof tablet for yourself.

Here we have done our job and now it's up to you to choose the best waterproof tablet for yourself. Thank you for having us and we are glad we could help you out.