Gone are the days when only high school students or college students were using the tablets for their studies, now even the school students are relying on the tablets for their classroom learning.
Even if the whole attention to the tablets is still not given over the traditional way of learning but some experts, as well as teachers, believe that tablets are very useful for students for better learning. And that's why almost every student is using the tablet for learning.
Now the only question is which tablet should they buy? Luckily the tablet comes in all shapes, sizes, price range as well as comes in various student-friendly features so that anyone can find the best tablet for their use. And the thing is there are a number of great tablets available for school students as well. All you have to do is to pick the right one for your kid!
Don't worry we have saved you from that trouble too. In this article, we are reviewing some of the top tablets for school students which you might wanna invest your money in and get the best performance as well. So let's not waste any more time and find you the best tablet for school!
Best Tablets For School Students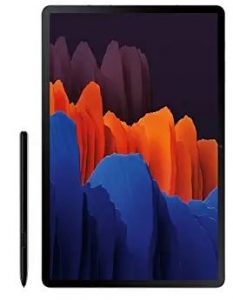 RAM: 6 or 8 GB of RAM

Processor: Qualcomm SDM865 Pro Octa-Core Processor

Storage: 128 or 256 GB storage

Screen size: 11 inch

Battery: 8000mAh

Our first pick for the best tablet for schools is none other than the S7 Plus from Samsung. Yes, this is pretty expensive but given the performance and the features this one can be your best option!

With a long-lasting battery and larger storing space along with the RAM, this one does seem ideal for school students. As we have mentioned the tab comes in two different options in RAM and storage, so there will be a price difference too for both the models. You can choose either as per your preferences.

The tablet also featured the latest technology with the Snapdragon 865 chipset which ensures you to deliver the best performance. And given its amazing features, this one can be used by the high school students as well as grownups.

Key Features –

S Pen is included that means you don't have to pay extra for that

Longer battery life and larger storage space are the keys features

The keyboard won't come with the package and you would have to pay extra for that

A little bit expensive
Processor: A 10 Fusion Chip With 62-bit architecture and embedded M 10 processor

Storage: 128 storage

Screen size: 10.2 inch

Battery: 10 hours

If you are an Apple fan then this one is for you! The New Apple iPad 10.2 serves as the best tablet for schools and it has also every great feature as well. It weighs only 1.1 pounds and has a 10.2-inch screen which is perfect for the students. Students can easily take lessons on the tab, can do various kinds of stuff (draw, paint, sketch, etc), and make their projects as well.

The HD retina display is useful for younger students and gives the best learning experience to children. Here the battery lasts for 10 hours which is quite useful. The tablet also features a fingertip scanner which gives easy and quick access. Overall, the tablets have every reason to be called the best tablet for students and you can surely rely on that as well.

Key Features –

Works only with Apple Pencil One which you have to buy separately

 Compatible with SIM card

Stereo speakers are helpful for leaning music or languages.
Processor: N/A

Storage: 128 or 64 GB storage (can be extended up to 512 GB via micro SD card)

Screen size: 10.4 inch

Battery: 13 hours long

Next on the list is yet again from the Samsung, the S6 Lite is also considered as one of the best tablets for school and it's also cheaper than the S7 Pro, so if you want the Samsung quality at the cheaper price then this one should be your first choice as well.

This one too features the lightweight design which is ideal for younger school students and its screen size is also perfect. The long-lasting battery ensures you won't have to deal with the charger throughout the day. And it also supports micro SD card you can easily extend the storage space if you want to. Overall it's a decent tablet for school and you should definitely check this out as well.

Key Features –

Works with standard A pen (improved version, which comes with the Tab)

Two speakers are included

Works great and is capable of delivering the best learning experience
RAM: 1GB of RAM

Processor: Qualcomm SDM865 Pro Octa-Core Processor

Storage: 16/32 storage

Screen size: 7 inch

If what you are looking for is the best tablet for school at the cheap rate then you might wanna take a look at the Amazon Fire 7. They have only released in the US and UK only and people are considering them as an option for a tablet for school. As we said, the tablet comes at a very cheap rate and that too with the quality performance which makes it one of the best tablets for school.

The tablet is very versatile and it is integrated with the Amazon ecosystem, you might get the Alexa service or kindle services for free or at discount. The screen size is rather small at 7 inches but this can also be an advantage as you take it everywhere and use it with ease.

Key Features –

Works best for younger school kids as they have only small tasks to perform or learn

Comes at a very cheap price and everyone can afford it

Amazon service is also included
5. Nexus 7 from Google

RAM: 6 or 8 GB of RAM

Processor: Qualcomm S4 Pro Processor

Storage: 32 GB storage

Screen size: 7 inch

Battery: up to 10 hours

The next one on our list is Nexus 7 from Google. This one too comes at a reasonable price and make sure that you can easily get the best services of a tab for school student. The tablet is made to keep younger students in mind as its small, thin, and lightweight which makes it ideal. The tablet supports wireless charging and can last up to 10 hours.

The best part about the tablet is it's a screen that comes in the higher resolution and full HD, so you will get a pretty decent screen to learn. It can be connected to Google Play to provide you the best study material as well.

Key Features –

Can be connected to wifi only and not 3G or 4G, so that makes it suitable for classroom use only

Has an LCD backlit touch screen for the better learning experience
RAM: 4 GB of RAM

Processor: Intel Quad-Core Processor

Storage: 64 GB storage, can be extended up to 256GB by SD card.

Screen size: 10.1 inch

If you are looking for a Windows device then you might wanna go with Windows 10 Fusion5. This one is the latest device that you wanna buy. It comes with the latest technologies and processor which makes it one of the leading tablets for school students.

It comes with a 10-inch screen which is quite large which is ideal for middle school children as well. The tablet also comes with front and rear cameras which allow it to take pictures in a number of formats. Overall it's surely worth your money.

Key Features –

It can be called as a mini PC as it has all the PC features

Quite powerful and makes a reasonable choice for early teenagers for learning and entertainment.
RAM: 2GB RAM

Processor: Octa-Core Processor

Storage: 32 GB storage

Screen size: 10.3inch

Battery: up to 7 hours

Lenovo is also a leading brand that is producing some of the bday tablets for school. This one too comes at a reasonable price and lots of amazing features. The screen is quite large and it's HD display is also something you would admire.

The battery can also up to 7 hours and kids can easily multitask on the tablet with a powerful processor as well. Here the tablet features specialized eye protection for the kids so it will be parents' first choice. However, the device also features alert signals when it's not used correctly so parents will know when something is wrong is going on.

Key Features –

Students can use the tablet for multiple projects and do multitask.

The screen is quite large and the kid-friendly

Dolby Atmos Sound system which ensures the best learning and entertainment experience
RAM: 2GB of RAM

Processor: Samsung Exynos 7904A Eight-Core Processor

Storage: 32GB storage

Screen size: 10.1 inch

Battery: 11 hours

We have another Samsung product on the list and this one is from 2019, here the tab was appreciated a lot by the teachers, students as well as a guardian for its incredible learning use. With a powerful processor and decent storage space, students can store a lot of stuff and make sure they have everything from the online classes to all the books and documents they need, right in their Tab.

It features an HD screen with high resolution which makes it perfect for streaming videos or even playing games. It comes with blue tooth connectivity and a USB port for charging. Lastly, the tab comes with its own case so you won't have to buy it separately.

Key Features –

A sturdy all-metal construction looks great as well as durable

Features fast performance

High Resolution and HD screen
So these are the best tablets for school students that you were looking for. These tablets are said to be perfect for school students and serve the best learning experience as well. All you have to do is pick one that suits your needs the best.

If you are still thinking about which one do you need to choose then don't worry because we have prepared a buying guide for you, which tells you some of the important factors that you would be considered for in the best tablet for schools.
1. RAM, Storage, and Processor

The RAM and the Processor of a Tablet are very very important as its what indicated the functionality and the efficiency of a tablet. The best tablets come with a RAM of 8GB or 16GB and similarly, it should have a storage space of 256GB (or at least meet your requirements space-wise). The more RAM and more storage space ensure a great performance without lag issues.

The processor directly proportional to the powerful performance of a tablet so do pay attention to the processor of the tablet before buying it.
2. Battery

No one wants a tablet that only runs for a couple of hours, so make sure you choose the tablet with a large battery backup that can meet your needs. You should also look at the time taken by the tablet for a single charge.
3. Operating System

The operating system is an important aspect of a tablet that you should not take for granted. There are iOS, Android, and windows type of Operating System and you can choose one that you are most comfortable with or the one that you find more efficient. Every OS comes with its own set of pros and cons, so do some research if you are confused and then go for the best one for yourself.
4. Screen Size

Last but not least, you should also consider the screen size as one of the most important criteria for choosing your tablet for school. There are various screen sizes available, and the sizes start from 6 inches to 18 inches. You should not buy too large or too small screen sized tablet and that's why you need to find the perfect size for yourself.
5. Waterproof

Just like smartphones the tablets to come with waterproof features. So if you want you can look for the waterproof tablets as well. This one is all up to you. The IP65 and IP7 are the most popular IP ratings for waterproof tablets.
Conclusion

Here we have done our job by introducing you to the best tablet for school students, now it's all up to you to choose one of them. We hope that you liked our article and find it helpful, so thank you for being with us.