So summers are here and for every middle-class family, fans are the most important thing in summers. They are economical and environmentally friendly and everyone can easily afford them and make the heat go away!
While talking about table fans, there are very convenient and can be placed anywhere you want, whether it's outdoors or indoors. But the thing is not many people give it a full thought while buying a new table fan and end up being a wrong table fan that doesn't go with their needs. So when it comes to buying a table fan you will need to buy the one that meets your needs as well as in your budget!
While buying a table fan you need to look into a number of things like what size you want, the motor speed, the strong grilling structure, it's durability and power consumption along with many more. It's so easy to get confused and leave out some of the very important factors and end up buying not so good table fan for you. That is why we have gone through a bunch of table fans and selected the top 7 table fans in India to buy!
So let's get going and start our list of best table fans in India!
Best Table Fans In India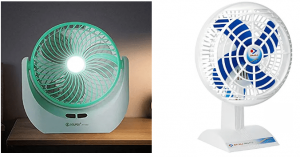 Havells is one of the best brands for home appliances and it won't disappoint you with its amazing table fan either! Swing Platina is actually one of the best Table fan in India because of its high performance and great design. The fan comes with a speed of 1350 RPM speed which is quite satisfying.

You can easily enjoy the fast speed of air delivery at it's fullest speed. It comes with a 3 button speed. The fan also features a jerk-free oscillation for the smooth running of the fan as well as minimum noise when it is being used. Overall the table fan would be the best match for any household and it will run on low power consumption yet deliver superior performance. The price may be a bit higher but it's totally worth it!
If you have ever shopped for a fan you will know that Usha is one of the leading brands of India and you will certainly wanna buy it's Maxx Air 400mm Table Fan this summer. The design of the fan is really amusing and will look elegant no matter where you will place it.

The fan consumes 55 Watt and features high air delivery. The fan is also loved by people for it's know noise-making ability and it also shows uniform oscillation for smooth functioning. The fan features 100% copper motor which enhances its life! Overall you will definitely like the fan and you should go for it!
Next on our list of best table fans in India would be Bajaj Esteem. There is no doubt about the performance of the Bajaj appliance and you will get a superior quality table fan with this one. It shows high delivery and improves the feels of air with the speed of 1320 RPM speed!

You can certainly expect a low noise operation from this table fan for a comfortable time in this summer's heat. Lastly, the fan also has an overload thermal protector which would certainly protect the fan and internal motor from damaging. You are getting really good quality for the price!
If you are looking for a more compact and easy to go table fan then V-Guard would be your first choice. As convenient its size is, the features of this fan are too very phenomenal such as you will get a 3-speed control buttons, a tilting angle for more direct airflow towards you and high air delivery.

The fan only produces a noise for the initial couple of minutes but after that, it will go silent as well as good performance for airflow. Although the motor speed is of 1280 RPM which certainly feels lower than other fans but other that it does a pretty great job for making the heat go away.
5. Orient Electric Desk 25 400mm Table Fan

Orient is a very popular and reliable brand of India for its fans. The company has always does it's best for providing us with some of the great fans. Speaking of it's Electric Desk Table Fan you will get a high-end performance with its 1330 RPM motor speed.

The fan is quite great looking and you will be in awe with it's simple and elegant design. It shows 90 degrees oscillation and it is adjustable with upwards and downwards tilt. You may find the price higher but in the end, you are getting a superb quality of air delivery with superior performance!
6. Usha Duos Mist Air 400mm Table Fan

Usha Duos Mist Air is another great table fan to bring your home. Apart from it's elegant and stylish looks, you will find many great features too such as the presence of Aerodynamic PP blades for low noise operation. It shows a speed of 1280 RPM which is more than satisfying. It also shows a thermal overload protection!
7. Crompton HiFlow Eva 16 inch table

Crompton is another best brand for fans in India and it has been giving us one of the really great products lately. It's HiFlow Eva table fan is all you would need this summer. The speed is 1300 RPM on a power consumption of 50 Watts. Overall it will be a great pick and you take this one for consideration too.
Conclusion

So we have complete our list of best table fans in India that you can buy. These fans are affordable yet give you a quality performance. So go out and buy the one you find most suitable for yourself!

We hope our article was a help to you in finding the best table fan in India! Thank you for visiting our page!