If you are a game lover then you must own a PS4 and if you own a PS4 then you must know about the heating issues which is caused by non-stop gaming. But this isn't the reason you would stop playing your favorite game right? As you know the games have become more advanced and they bigger than ever which required more power than ever by your PS4 which in turn causes the heating of your gaming console.
The thing is simple we don't want our ps4, like our other electronic devices, to get heated and cause any kind of damage to our beloved gaming console. So what do we do? The cooling fan is the answer to the heating issues in any device as well as the PS4! So all you have to do is to find the best cooling fan for your PS4 and continue playing the game for longer hours.
But how do we find the best cooling fan for ps4? Because not all the cooling fans are reliable or worth our money and we do need to find the one which works efficiently and make sure our console doesn't face any more heating issues.
Since there are many cooling fans for ps4 present in the market, you might get confused about what to buy and what not to buy. So here we have listed down some of the best cooling fans for ps4 that you can rely on and make sure you have no trouble playing your high-end games on your PS4.
Best PS4 cooling fans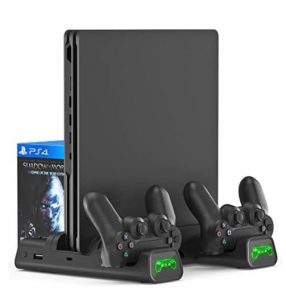 Zacro PS4 vertical stand cooling fan is our first pick for the best ps4 cooling fan list! It is stylish as well as light in weight. It comes with two cooling fans which makes sure you have nothing to worry about the heating issues in your ps4 console. This one also boasts the dual charging station as it can charge both the controllers at the same time.

Its design is also a space saver as it comes with a sleek design. It also features a nonslip mat so that it perfectly fits with your console and prevents the slipping as well. Although it only fits the PS4 not their fit or pro version. Lastly, it comes with an 18-month warranty so you might wanna invest in this one.
Linkstyle Cooling Fan is also a top ps4 cooling fan that you can rely on upon. This one is powered by the USB rather than the console's power port and due to this, the cooling fans would run under the normal speed and faster turbo speed for the games that demand more power.

This cooling fan features three cooling modes and one of which is an automatic mode for when the ps4 gets too hot. This intake sure to protect your gaming console against excessive loading and heating. It's also easy to set up. Overall if you own a ps4 pro then you might wanna invest in this one.
Here we have brought you the ultimate cooling fan setup which would male sure you never face the heating issues on your ps4. This one works best with all the versions of PS4, that is Ps4, PS4 Slim, and PS4 Pro, so if you own multiple gaming consoles or one of them then here is the ideal cooling fan setup for you. It's more like a premium accessory for your premium gaming console and that's where we find this worthy of our money.

It features a simple on/off switch that ensures a thorough cooling. It also offers two more chargers for PlayStation Move controllers alongside the charger for Dualshock. There are four USB ports which should be enough for you. Lastly, there are game slots and a headphone hanger which makes it even more desirable.
Next on our list is the Ortz PS4 Vertical Stand with the cooling fan. This one is considered as a multipurpose cooling fan partly because it comes with a vertical orientation that makes it easy to fit compared to the horizontal orientation. This one not only provides the cooling to your gaming console but also gives it a stylish look.

It features dual charging set up which charges both controllers, 2 hubs, and 1 USB port. It charges both the controllers at the same time which can out the PlayStation the standby mode which prevents the PS4 from losing all its power. This doesn't require any long wire for connecting to the PS4 and the best thing about this is it doesn't make any noise while working.
Kootek is another best ps4 cooling fan that you would find for your favorite gaming console. This one is feature-packed as it comes with lots of amusing features. For states, the cooling setup features three cooling fans which makes sure your ps4 remains fully ventilated.

It comes with two charging ports for DualShock 4 controllers and the same holders that can hold overall 12 game cases. This one too is compatible with all the three versions of PS4. Although the USB ports will oy work when the PS4 will be fully turned on. This one provides the best value for your money, so do look at this one when you are searching for the best cooling fan for ps4.
6. Amir PS4 Cooler, PS4 Vertical Stand Cooling Fan

Amir is our next pick for the best Cooling fan stand for PS4. It comes with antislip rubber pads which ensure its stability. It's a dual cooling fan set and ensures that there are no heating issues while you play the high-end games on your console that required more power.

It features a dual charging station that is capable of charging both the controllers at the same time and it also boasts 2 hub ports and 1 USB ports. It also comes with 4 brand new cover caps for controllers. You would also love the fact that it comes with a 12-month guarantee.
You would love to have KINGTOP as your next cooling fan for ps4. And there are a number of reasons for that. Firstly this one is the cheapest cooling fan out there and that doesn't mean that it has compromised with the quality of the cooling fans.

It features two cooling fans that offer low and high settings which means you won't require additional ports for this stuff. It can be powered with any USB port. Users can also use the external USB Power Source. Its compact and portable design.
OVO PS4 is also an amazing cooling fan that you can rely on. What you will like the most about the cooling fan is its sturdy design, which is durable, the base of the stand is made up of the metal instead of the plastic. It also features a fast DualShock charging through the EXT port.

It made sure your ps4 console stays well ventilated and the stand also is strong enough to last longer. The cooling fan is all about the quality do you should definitely check this one out.
9. Miboo PS4 Cooling Fan

The next one on our list is the Miboo PS4 Cooling fan and it surely is a leading option for a ps4 cooling fan. It comes with 5 fans and uses 3 different modes of cooling. Users can also set their preferences when jy comes to the speed and cooling modes. So if you are playing a high-end game that requires more power, you can go for a more suitable cooling mode for that (turbo is for high-speed cooling and auto is for automatic cooling). It will give you the value for your money so it would be a smart move if you take this home for your gaming console.
Lyyes PS4 Cooling is a lightweight cooling fan that made sure you can carry it around and it's also a space saver as well. The cooling fan comes with a number of amazing features such as the different modes of cooling. The cooling fan is also pretty easy to set up and use, so even if you are a beginner you won't have any problem using this one. Overall if you are looking for a cheaper option then this one might be your best option.
Conclusion

Here we have listed the top cooling fans for ps4 that you need to know about. We have chosen these cooling fans by taking the reviews of customers and some experts, all the gamers have found them reliable and effective as well. Our job here is done, and now it's up to you to choose the best one from the aforementioned cooling fans for ps4. Thank you for being with us and we hope that you have found what you have been looking for.