We understand the struggle of gamers who don't have enough space in their PC, therefore, they can't play their favorite games. But if you guys think only large size games are fun to play then you are wrong, there are some games present which comes in reasonable size and are fun to play.
Today in this article we are gonna talk about such 10 best games that are under the size of 2 GB so that you can easily download them on your PC and have fun!
PC Games Under 2Gb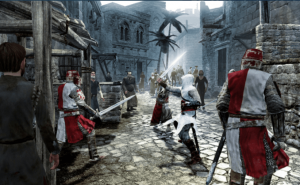 Assassin creed is one of the best PC game under 2 GB that you can find. It is a popular action-adventure video game which was released in 2008 for PC. The plot of the game revolves around fictional history. The game features long found struggle between the assassins. The lead character is in modern-day but he can control his genetic memories.

The game is played from a third-person perspective. It features a strong storyline which made it one of the best game. It has been praised by critics for its gameplay, engaging storyline and unique fighting styles. Overall you will enjoy this PC game under 2 GB so download it now and have a blast!
Which one is a better PC game under 2 GB than Assassin 's Creed 1, well it's none other than Assassin 's Creed 2 which its sequel and one of the most popular game. The game was released in 2009 which was a hit. The game leads the storyline of its prequel and players will get many things similar from the previous one.

It's too a third-person perspective, single-player game. And player will get-to use many tactics and strategies to stay in the game. If you have liked its prequel then you will like this game too.
If you are in a mood to play a shooter game then IGI 2: Covert Strike should be your best choice for 2 GB PC game 2021. It was released way back in 2008 but it's still making hype because of its strong gameplay which features a stealth-based first-person shooter gameplay.

The player will have to deal with the antagonist who is involved in an armed robbery which can harm your country. The game covers many aspects of its storyline making it more and more interesting. The game is divided into a total of 19 missions, and each one of them is presented in a well-organized manner. You can also play it with your friend in multiplayer mode. Players can also choose their difficulty level.
The best 2 GB PC game 2021 is now other than Tom Clancy's Splinter Cell: Chaos Theory. This stealth game was released in 2005 and it makes headlines for its amazing plot. Just like its previous series game this too revolves around the character of Sam Fisher, who is an agent at NSA.

Everything in this game more than what you have seen in its previous installment. That means the game involves more killing, more action, and more weapons. The game uses ragdoll physics. It's is a multiplayer game so you can enjoy this game with your friends too. Overall this one is a great PC game under 2 GB which you shouldn't miss.
Surprised to see a GTA game in our list of PC games under 2 GB ram 2021! Well, it's true that other GTA games might be in a gigantic size but we have found you an exception. This game is undoubtedly the most loved game of all time. The game suites every age group and people love it for its own world action-adventure gameplay.

The game features the Miami city, where the main character has been caught dealing with drugs, but that's where the story starts. It features many missions throughout the game. You can use vehicles or travel.on foot. There are lots of weapons too. We need not tell you any more because you can easily find out what this game has to offer by simply downloading it!
Who doesn't love racing games? And what's even better is when you find a pc racing game under 2 GB ram! Need for Speed is one of the most popular racing games of all time. The game is loved for its open-world racing gameplay.  It's a multiplayer game too so you can now enjoy racing with your friends.

Like any other racing game, you will be traveling from one place to another, but in between, you need to take care of hurdles. Ignore everything else and race your heart out with the beat racing game ever. Either race against AI in single-player mode or race against your friends or local players in multiplayer mode.
Burnout paradise is another racing game which comes under the criteria of 2 GB PC games 2021. The best thing about this game is its stunning graphics and smooth controls. The game features paradise city where all the racing things happens, the game also features an open world environment through which you can explore many places.

Players will get to play at their pace and level. This game also features many gameplay modes which player can choose according to his preference. It also a great PC game under 2 GB to play.
The next best PC game under 2 GB ram 2021 is Hitman 2. It is the 2nd installment of the series. It was one of the most successful game of its release year.

It's a stealth genre single-player game which features many missions. Contract killing is involved with missions. The best thing about the game is, the player can choose their own style of gameplay.
Prince of Persia is one of the best PC game under 2 GB. It's an action-adventure single-player game which got huge popularity after it's release.

The gameplay features fierce battles, power-ups, combat and so much more. It's a fun game which you can find under the 2 GB!
Freedom fighters is another best PC game under 2gb. Just like its name suggests you will have to fight for your freedom. Since New York City has been invaded by the Soviet Union, you will have to do everything that it takes to achieve freedom.
Conclusion:

So these are the best of PC games under 2gb ram 2021 that you can find.