The way we listened to music has been changed a lot over the years. And the latest entry is the turntables! Yes, you might know this as the old school type record player but they are back with the advanced technology. The Bluetooth turntables are undoubtedly a good investment and you will certainly want to take one home.
But the question is which one is the best Bluetooth turntable? How do we choose the best Bluetooth turntable? I am sure these are some of the questions you have in your mind regarding the Bluetooth turntable and we are going to answer each one of them as well!
The Bluetooth turntables have surely shaken up the old school vinyl market and now you would be able to listen to your favorite music with the best sound possible. The Bluetooth turntables can be connected wirelessly to any speakers within a range of 30 feet (approx) and the stereo can be operated remotely. The best part is you can also be used with a pair of headphones for private listening sessions.
Even though there are a number of brands making these Bluetooth turntables but it can be quite confusing when it comes to choosing the best one for yourself. In this article, we have listed out a number of Bluetooth turntables which are considered as the best ones. So go ahead and look at the following list of best Bluetooth turntables and pick the best one for yourself.
Best Bluetooth turntables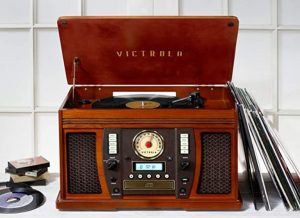 Our first pick for the best Bluetooth Turntable is the Audio-Technica AT-LP60XBT. It comes in a budget-friendly price that won't make you empty your pockets and at the same time delivers the best quality.

If you have never used a Bluetooth Turntable before then it should be your first pick as it comes with an easy to use technology. You will find a built-in phono stage and balanced sonic performance. It comes at two speeds, 33½ and 45. There is no USB port but you will find a phono preamp. The black finish looks stylish and goes with everything overall this one might be your best shot.

Key Features

Comes at an eco-friendly price

Suitable for beginners

Two rotating speed is available

Dimensions 10×36×37
This one is a belt-drive type turntable and you would surely want to have this one at your home and enjoy the uninterrupted music production or the music stream via the Bluetooth. It is counted as one of the most stylish turntables with the walnut finish and brushed aluminum controls. With gold plated RCA jacks, you won't have to about the signal transfer.

You can also convert your analog vinyl records into digital files using USB. Users also like its compatibility with the traditional stereo and audio quality. The adjustable feet ensure level installation for optimal sound quality.

Key Features

Stylish design and can go with any interior

Easy to set up and can be adjusted as per your requirements

Delivers the best audio quality.
When it comes to quality, you can hardly question the Sony products. The brand has been featuring some of the best products over the years and making our lives easier with technology. Now they have brought a Bluetooth Turntable which provides an unclutter and warm sound.

The turntable presents a well-balanced set of features and you would hardly have anything to complain about. It comes in two recording speeds, 33½ and 45, and you would also find a built-in phono stage. Up to 8 devices can be connected with the Bluetooth turntable.

Key Features

Easy to set up

Comes with the best sound quality

8 devices can be connected with the device.
Our next pick for the best Bluetooth Turntable is Denon DP-300F. It is a belt-drive type turntable and features a phono preamp. It supports two kinds of recording speed that is 33½ and 45 rpm. This one is fully automatic so you might like it most on our list.

This one comes at a reasonable price given the detailed and airy sound of music it's definitely worth every penny you spend on this one. Since its fully automatic you won't have to manually pick up the music albums so you can easily sleep while listening to music. It is made up of plastic and you might find it a bit cheap than the other Bluetooth turntables on our list. But if the built material doesn't bother you then this one is a great pick.

Key Features

Fully automatic

Good sound quality

Comes at an affordable price
The name draws quite a picture in our head and it surely lives up to our expectations. The belt drive Bluetooth turntable features the best quality and a Victorian-style design that makes you feel nostalgic. As its name suggests the Bluetooth turntable is multifunctional, that is, it can be used as a radio, CD player, cassette player, and it can also be used to record the music using the fusion of old and new technologies. You can also record the music on the CD or cassette or vinyl and directly to USB in the MP3 format without the need of connecting to a computer.

Key Features

Features all the three recording speed 33, 45, and 78 rpm!

It's a multi-function and highly versatile

It connects to Bluetooth as well as non-Bluetooth devices

Comes with built-in speakers
Pro-ject Juke Box E Bluetooth Turntable is able to make a Bluetooth connection in both directions. It comes with its own amplification and receiver, it also boasts RCA inputs and outputs, which means that you can stream the music as well as record it.

The sound quality is what you would get best out of this one and being a brand like Pro-ject it won't disappoint you either. You can think of it as a multi-tool player and the best part is you won't have to spend a fortune over it. Its fun quirky design is also a reason why you should take this one to your home or studio!

Key Features

Extremely easy to set up

Features balancing dynamic space and sense of warmth

Comes in three colors finishes, Black, white and red
ION is also a reputed brand that promises you to give the best sound quality and value for your money. The ION Audio Air LP has made sure that you get the best-advanced technology out there. It looks like a modern techno device with an old school touch in the design as well. You can easily connect your Bluetooth enabled speaker and the data would be transmitted from the sources or records.

It's a belt-drive type turntable so you will get better sound quality and it also delivers the high output signal. It provides an ideal direct connection to speakers and amplifiers. Overall it can be your best option for a Bluetooth turntable.

Key Features

It provides multiple connectivity options

Its sleek appearance and sturdy construction are also impressive.
Next on our list of best Bluetooth Turntables is Marantz TT-15S1. This one is kinda a premium turntable that makes sure you get the best quality both in terms of sound as well as the design. This high-end turntable is definitely made for professionals. And being made for professionals this one does require experts' knowledge to set up and operate.

It's quite expensive and you might feel like you are investing in an antique but if you are all for the high end and advanced features then this one should be your first choice.

Key Features

Features belt-drive motors

A detailed and gorgeous design

Comes with two recording speed 33½ and 45
9. Elipson Omega 100 RIAA BT

Elipson Omega is another best Bluetooth Turntable that you would like to buy. It's kinda a complete package and comes with everything from phono preamp to USB. It also features all the three recording speeds that are 33, 45, and 78 RPM.

It also covers all the bases and it comes with an amazing design. And since it has a USB port it is able to convert the records into the digital form from the source. This one claims to be best suited with a variety of genres.

Key Features

It is extremely versatile

Ambitions spec

Comes in three finishes
Cambridge Audio is another reputed brand that you should know about. The Bluetooth Turntable features versatility and an easy to use set up. This one said to offer a solution to a Bluetooth Bugbear. This one too comes at an expensive price and it surely worth every penny you are gonna spend on it.

Key Features

Features two speeds 33 and 45

The graphite finish makes it even more stylish
Here we have listed out the best Bluetooth turntable we could find out. Although there are a number of other turntables present in the market everyone considers the Bluetooth, for a number of reasons, one of which is the wireless connection.

We have listed down the top Bluetooth turntables that we could find in the market right now. And we really hope that you have found the perfect one for yourself as well. If you are still not sure which one would be best for you then we have also brought you the buying guide for you.
Buying Guide for Bluetooth Turntable:-

Here are a few factors that you need to consider while buying the Bluetooth Turntable.

1. Rotating speed

The rotating speed of the turntable is one of the most important features. The rotation speed depicts the level at which the turntable delivers its best performance. There are generally 3 rotating speeds, these are, 33, 45, and 78 RPM. The larger rotating speed means they can hold smaller information and can only be played for 3 to 4 minutes. They are also prone to damage as well. On the other hand, the latest and the smaller version, 33 RPM version comes with more playback time and is more durable. The 45 RPM is the 3rd and the last one to be invented. Its kinda like the 78 RPM in terms of playback time but it's smaller and much more durable than 78 RPM.

You will have to see if the turntable is compatible with the speeds of your records. Not all of them comes with multiple rotating speed.
2. Bluetooth Range

Another feature that you should be considering in the Bluetooth turntables is the Bluetooth Range. You should be looking at what range the device can be connected to. Although it's not just about the range, you should also look for how strong the connection would be and how fast the data transfer would be in the Bluetooth Turntable, so you can get an uninterrupted experience.
3. Type

There are generally two types of Bluetooth turntables found, the direct drive and the belt drive. The difference between the two is, the former features the motor which is in direct contact with the motor which results in more constant playback.

On the other hand, the belt drive turntables feature the platter is attached to the elastic belt which is in turn attached to the motor. These turntables have less torque and less accurate speeds and they might have better sound quality than the direct drive type turntable. Overall you can test both of them and see which one you like the most.
4. Pre-amplifier

The pre-amplifier or preamp is designed to boost the record player signal. You have to see if your records have the built-in preamp and if not then you might need to look for a special amplifier for the turntable.
5. Platter and stylus

You would want your platter to be firm and rigid, so you should look for the platter with a good weight. The dense platter is responsible for better consistency in the playback speed. And they are usually made from acrylic, MDF, and metal. Each material comes with its own set of pros and cons, so you will need to see which one is better for you.
Conclusion

So these are the things that you will need to see in a Bluetooth Turntable before you take it home.

We hope our article was helpful for you and you have a better understanding now and know which one you want for yourself. So thank you for being with us and we are glad we could help.