Going on a car trip? Or having an in house party? Switch to Bluetooth speaker for louder noise than that of your phone! But a lot of people think that they have to empty their pockets in order to buy a new Bluetooth Speaker with all the advanced features. But thankfully that's not true, we can easily get a good enough Bluetooth speaker within $50.
Surprised? Well, that's true. Don't mistake yourself by thinking the cheaper price would mean cheaper quality. We have gone through a bunch of Bluetooth speakers and found you the 10 best Bluetooth speakers under 50 dollars.
So let's get started with this list so that you can find the best Bluetooth speaker for yourself to buy and that too for less than 50 dollars.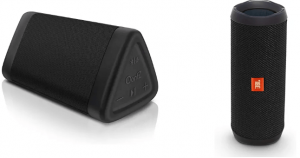 Best Bluetooth Speakers Under $50
If you want a stylish and budget-friendly Bluetooth speaker then there would be no better choice then Anker SoundCore 2! Its stylish sleek design is surely a plus point but what you will love most about this Bluetooth speaker is its advance features and excellent sound quality as it features 12W speakers and two 1.5 inch drivers.

It's control buttons are placed on the top which features a play button, power button, Bluetooth pairing button, and volume buttons. It is lightweight and portable which makes it really easy to carry around, so if there is a party in your friends house or a college fest all you need is Anker SoundCore to celebrate the occasion.

You will also be impressed by its battery backup, here you will be able to play as many as 500 songs in just one go thanks to its built-in high capacity Li-ion battery. The Bluetooth speaker also features waterproof ability so you don't have to worry about someone's drink spilled over it!

Key Features

Waterproof design

Lightweight and portable

Zero distortion at any volume

High battery capacity- 24 Hour

Best suited for outdoor use
Doss soundbox is our next choice for our list of best Bluetooth speakers under 50 dollars. If you are looking for a Bluetooth speaker for your home then there is no better match than doss soundbox! As its sliver stylish design will look elegant and beautiful at your kitchen or in the living room.

You can place it either vertically or horizontally as you would like, its rectangular shape is also very sleek. You can bring it home and stream music via your phone, laptop or tablet. The speaker will feature unbelievably clear sound.

What will impress you the most is the fact that you can also answer phone calls via this speaker. If we talk about battery then you will get 10 hours better and enjoy none stop music on this one for a longer time.

Key Features

Can be connected with multiple devices

10-hour battery

2.5 W speaker along with full-range driver
JBL is one of the biggest brands that we have and we can't just complete our list of best Bluetooth speakers for less than 50 dollars without mentioning JBL Clip 3! Don't go with its small size because is well known for producing some loud noises at the party. It's is being called an "ultra-portable" speaker because of its small size and lightweight so that you can easily carry it around with you.

It's an ultra-rugged design is waterproof so it is one of the best Bluetooth speakers for outdoor. As you know it comes with a clip that can be attached to your belt, backpack or even clothes making it perfectly portable and best for outdoor usage. If you are still not convinced then you will be happy to know that it comes with 10 hour-long playtime powered by 1000mAh Li-ion battery.

You can also make phone calls thanks to its eco canceling built-in speakerphone which makes your voice crystal clear. It's one of the best choices for Bluetooth speakers under $50 and so don't hesitate to buy it because you are gonna love it!

Key Features

Integrated carabiner

Speakerphone

10-hour playtime

Lightweight and portable

Waterproof

Durable
Do you want a Bluetooth speaker that features 24-hour playtime? Well, you have one, apart from Anker Sound Core 2, Tribit XSound Go is an excellent choice that features 24-hour playtime but with few less dollars. This fast-growing audio brand is feature-rich and you will like its sound quality too.

It's completely waterproof that makes it another best Bluetooth speaker under 50 dollars for outdoor use. You will also love its compact yet stylish design in black color. You will have a stable Bluetooth connection with its 4.2 Bluetooth technology.

Do you wanna carry around the Bluetooth speaker in your bag or purse? Say no more because the Tribit XSound Go is extremely portable and lightweight. What's more? The Bluetooth speaker features a tough exterior and solid interior which makes it a perfect match for you!

Key Features

Portable and lightweight

Stable Bluetooth connection with 66ft range

Waterproof
Doss SoundBox is another best Bluetooth speaker below 50 dollars which is perfect for desk work or indoor use. Doss SoundBox features a 12W speaker so that you hear loud sounds perfectly clear and enjoy your time with deeper bass. The speaker has a number of features that have landed it on our list.

This emerging audio technology brand also features a 12-hour long battery life and its metallic design looks elegant in every room. Speaking of its design, the speaker comes in multiple color choices so you can choose the one that goes with your personality.

What will impress you the most is its highly advanced touch-sensitive control panel with laser carving finish. The control panel features 3 options, that is, Bluetooth, Micro SD, and Aux-in. Along with play, pause and skip music options. You can also adjust the volume with the top ring. Overall it's worth checking it out.

Key features

4.0 Bluetooth technology with 33ft range

12-hour long battery life

Micro USB cable is available too
Although we have mentioned JBL Clip 3 on our list if you want the same features with less price than that then you can easily go for JBL Clip 2. This one too fits the criteria for the best Bluetooth speaker below 50 dollars. The main difference is in the battery, unlike JBL 3 which provides a 10-hour long battery life, it features an 8-hour playtime which is quite good given its price.

It's rugged and portable quality is quite similar to that of JBL 3, so you can easily carry it around thanks to its lightweight and easy to carry around compact design. It also has waterproof features that make it perfect for outdoor usage. This one also features a clip that can be attached with your belt or backpack so that you can dance with high volume music at any party!

This one quite amazing Bluetooth speaker that comes with plenty of advanced features at a very reasonable price. Take the Bluetooth speaker where ever you want and don't worry about water splashes. This one is a true competitor and its one of the best Bluetooth speakers quality-wise too.

Key Features

8-hour long battery life

Waterproof

Portable
We are yet again here with JBL Go 2, which is considered as one of the best Bluetooth speakers under $50, you would love it for its extreme waterproof ability which makes it perfect for the people who love to party at the beach! It has a number of advanced features which are loved by its users in the first place.

The JBL Go 2 is popularly known by its wireless Bluetooth streaming which streams high-quality sound from your smartphone or tablet. It's sound system consist of powerful bass with punch. Its noise-canceling speakerphone allows you to easily take calls with crystal clear voice of yours.

The speaker also features audio cable input which makes it easy to use and enjoy music by plug-in cable when there is no Bluetooth network available. The only drawback of this speaker is its 5-hour long battery life which is lower than other speakers on our list. Other than that it is a perfect grab and go portable Bluetooth speaker to light up your party. The speaker comes in 12 different colors so choose the one that suits your personality.

Key Features

Waterproof

Compact design

Affordable
Our next pick for the best Bluetooth speaker under 50 dollars is Oontz Angle 3 Ultra. You may or may not have heard about this brand but it is surely is an amazing choice for the people who wants a long-lasting battery life for their Bluetooth speaker. And that's where it impresses us with its 20-hour long battery life so that you can party harder and longer. This one comes with the largest 100 ft range which is quite impressive too.

Although its waterproof technology is just IPX6 rating which is strong enough to survive minor splash and sprays it's won't survive anything more than that, so taking it to a beach party may not be a good idea. They feature 7W sound speakers and they are capable of handling stereo outputs.

This one comes with a built-in aux port so you can play from tv as well as none Bluetooth devices. The Bluetooth speaker also has a microphone which will help you make hands-free calling. The speaker can be connected with both iPhone and Android phones and you can also talk to Siri with this one.

Key Features

100 ft range

Aux port and microphone

Splash and spray proof
9. EasyAcc Mini

EasyAcc Mini is also considered as one of the best Bluetooth speakers below 50 dollars. If you want value for your money than EasyAcc Mini is what you should get! This small and compact speaker is also very easy to carry around and get your party started with loud music wherever you want. This pocket-friendly Bluetooth device also comes with 3.5mm audio cable so that you can connect it with none Bluetooth devices. It also features a micro SD insert.

It is compatible with a number of devices and smartphones (both android and iPhone). Its cylindrical design helps to cancel background noises during phone calls. The battery lasts up to 4-5 hour and it can be charged via a micro USB charging cable. It only weights 259g.

Key Features

Lightweight

Can be connected with many devices

4-5 hour battery life
How can we not mention a boAt product when its one of the popular brands? Well, we are not disappointing you that's why we have brought boAt Aavante 5! It's one of the best Bluetooth speakers under 50 dollars which features all the premium features. It comes with deep bass that features a clear and loud sound. This one is equipped with 5-watt drivers.

Its elegant and simple sleek design makes it a perfect fit for indoor home-usage. The speaker is compatible with both Bluetooth and aux cable. The speaker features a 5-hour long battery life which is quite good for indoor home use. It's too en elegant speaker that you would wanna take home and it will enhance your home style. Its an overall fit and you could considered it buying for its premium sound quality.

Key features

Premium sound quality

5-hour long battery life

Affordable and value for money
Conclusion

We have tried to put all the leading brands of Bluetooth speakers that come under 50 dollars. These are all feature-rich and high quality so you will not regret investing your money in them.

Pick any of the Bluetooth speaker from our list and get ready to listen to your favorite songs on full volume!

We hope you have found this article helpful and you would find the Bluetooth speaker that you were looking for! Thank you for visiting our page.