If you think that there are no choices when it comes to messenger bags for men then you are completely wrong. Not only there are tons of choices in style and design but there are different brands present too which you would wanna consider when it will come to choosing the best messenger bag for men.
Messenger bags are live savers for businessmen or any other working men. Obviously, you are not gonna carry your documents or other essential papers in your hands right! Some may think a laptop bag might be enough for men to carry but that again would be a totally wrong choice.
If you are thinking to buy a new messenger bag for your new job then you need to consider many things and see if it actually has everything that you need. It's always better to explore your options first before buying a product and that's why we are here to help you. We have not only gone through messenger bags for men but we have picked the top 15 messenger bags for you which we have listed below the article, so take a good look at the list and choose your messenger bag wisely!
Best Messenger Bags For Men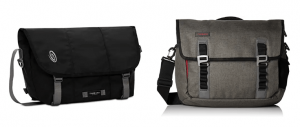 We are starting our top messenger bag for men list with Timbuk2 Classic Messenger Bag! It is a modernized messenger bag for today's generation. This one would best suit the college students or interns. In this messenger bag, you would find a number of different compartments for different things like your pens or other small or large stuff.

If you wanna put your electronic gadgets in this one than it would be fine too as has some secure closure for these kinda things. The size of the bag is medium and it comes in different colors. You can put your laptop in the bag though and your notebooks or files can be easily placed too. Apart from these, the bag has got water-resistant lining.

Key Features

Water-resistance lining

Separate place for water bottle

Padded shoulder straps

Good for college students
If you are in a serious job then Kenneth Cole would be your first choice. The list of this bag's cool features is a long one. For starters, the look of this bag is very sleek and stylish. Once you have pit this bag on you will feel confident because it looks that great. The bag features magnetic buttons and it has a good space for your laptop and other essentials like tablets, papers, etc.

The shoulder straps are padded and if you want you can keep the strap inside the bag. Although the bag may not do very well in the rain but other than that this one should be your first pick for your new messenger bag.

Key Features

Made of Colombian leather

Adjustable straps

Looks stylish
Classic black messenger bags can never go out of fashion and that is why we have placed Shinola Detroit at number 3 on our list of best messenger bags for Men. The plus point of this bag is it's a simple design that would go on every outfit or suit and still look elegant.

If we talk about its features then the bag has got an interior of the canvas, so you can keep your electronic gadgets like a laptop, tablet or anything else without worrying about their damage. Overall we can say that it definitely worth your look at the messenger bag if you are looking out for one.

Key Features

Versatile strap

Good space for electronics
Mobile Edge Laptop Eco Messenger is one of the best choices for those who like to travel around and don't like to carry around big bags. When we are talking about traveling it's not a 5-day trip but that takes place for a couple of days. This messenger bag is perfect for those who want a large-sized bag.

Apparently, you can put a lot of stuff apart from your regular laptop or files in this bag. It's easy to carry around and looks stylish. Overall you are gonna love it for its number of impressive things.

Key Features

Gives a cool and casual look

Good space
The next messenger bag for men on our list would be CoolBELL, you would wanna buy this bag for its versatility which is hard to find in other bags. At one time you can use as a carry on bag when you are traveling and put all the essential traveling goodies. On the other hand, you can easily use as a classic messenger bag for work. And did we say you can use it as a backpack too? Yes, you hear it right! We weren't joking about its versatility!

This canvas bag is all you need to look cool and stylish and carry all the important things for college or work. The bag has got six different pockets which you can make good use of!

Key Features

Highly versatile

Good storage space

Looks good too
We have bought you another great option for an office messenger bag which is a Tomtoc Travel Messenger bag. As you would get an idea from its name, it is most popular for carrying laptops around. It has a really safe compartment for laptop and that is why we have put this one on our list! Additionally, the bag has got two pockets in the front which can be easily used for charger, power bank, etc.

The ban has an anti-shock design that would protect the laptop or other electronic begins from getting damaged when you accidentally drop the bag.

Key Features

Perfect design for men

Durable

Anti-shock design

Simple black design
Berchirly Men's Briefcase is one of the best messenger bags at a reasonable price. The bag is made of faux leather and PU leather. This one has a vintage feel which looks very great on men. It's simple, it's classy and more importantly, it's stylish.

The bag has great space to and you can easily put a 14-inch laptop in it. The best thing about the bag is, it looks like a briefcase as well as a messenger bag, so it will be your top choice if you are looking for something like this in the first place.

Key Features

Looks good

Made up of PU leather and faux leather

Affordable
KomalC Retro Buffalo Messenger Bag has received a full 5-star rating at Amazon. People have loved it's a rustic yet classy look. This messenger bag is made up of premium buffalo leather as well as canvas. If you want to buy a bag that compliments your masculinity then this own would be your first choice.

The bag has got the security of zips so don't worry about leaving the buttons of the bag wide open. Additionally, the bag will hold up the slight rain too.

Key Features

Comes in two rustic color charcoal black and rustic tan

Good space for a laptop and additional pockets for charger and stuff

Good quality

Made up of premium buffalo leather
Arc'teryx is a popular Canadian brand that is now selling one of the best messenger bags at the moment. The bag is just amazing and we are not just doing a formality by saying this. For starters, it has got an advance and lightweight design which would suit every guy. The other best thing about the bag would be its waterproof design, which you should know by now that it's hard to find and is really important to save your documents or electronics in the bag.

You would also get a separate place for the water bottle so that you always stay hydrated no matter what! If we talk about the looks then it has got a sleek, stylish and perfect look which you carry to your work as well as when you hang out after work hours.

Key Features

Waterproof design

Sleek look

Enough space

Lightweight
With Skagen MiKael Courier Bag you would get a versatile messenger bag. This one is too very popular among people these days. The main reason behind its popularity would be it's casual as well as professional look. You can never go wrong with it no matter where you wanna carry it.

The bag has got a waterproof flap and you can place a 15-inch laptop too. the bag is made up of polyester and nylon so its gonna be a durable bag. The bag features different compartments for different things.

Key Features

Easy to carry around

Looks good

Good space
If you are looking for the strongest messenger bag then there would be no better choice than Defy Recon Messenger bag. You can get the idea about how strong and reliable this bag is with the fact that it is used by the people from special forces too.

As you can always place the laptop with the size up to 15 inches. This messenger does more than that too. The bag is waterproof but what makes it different than others is its slash-proof ability and abrasion resistance feature.

Key Features

Dual Cobra quick release buckle

Water and splash resistance
Jack and Chris is a high-quality material messenger bag for men. The bag is handmade using traditional techniques. The bag is anti-dirty as well as lightweight. You can easily adjust the shoulder straps too.

Jack and Chris is a highly reputed brand in the UK and the U.S. so you don't have to worry about the quality. The bag has got many different compartments for different things. It looks stylish too with the simple and classy design that makes it perfect for work!

Key Features

Adjustable straps

Good quality

Good space
Do you wanna buy a messenger bag which you never lose? As weird as it sounds it's true, if you buy this bag you will get a programmer that has a unique identifier and register database which would help you find the bag if you ever lose it. This quality of it makes it one of the best messenger bags for men for traveling.

Other than this, the bag has got a water resistance body and it is a perfect messenger bag to carry the laptop as it would be safe to handle the stuff. Although you may find it a little expensive than other messenger bags for men on our list but it's worth it.

Key Features

Water resistance

Can help find the bag if lost

Good quality
Plambag is one of the best messenger bags for those who want a compact messenger bag. The best feature of this bag would be its price at which anyone can afford it. It can be a great choice for college students too.

Key Features
Lifewit is considered as a durable messenger bag. So if you're looking for a long-lasting messenger bag for men you can never go wrong with this one. Other than durability it has got good space too. You can easily carry your electronics in it and you won't have anything to worry about them. It is widely used to travel too.

Key Features

Durable

Secure

Many different compartments
Conclusion

So these are the top messenger bags for men which we think you should buy next. Just keep in mind that the right bag is really important and you should take a nice look at each one of them before buying them. We hope you found this article helpful, thank you for visiting.