There was a time when aspiring musicians or DJs had to buy heavy musical instruments or software to make some beats and create new music but we are thankful for these emerging technologies because it we have a number of apps from which we are able to create music or make beats.
These apps work just fine and if you are new to this they might be a better option since you will be able to understand better and create the beats just like you would have imagined in the first place.
But the problem with these apps is the fact that there are many best making apps 2021 for iOS and Android present so it becomes hard to find the best one and people can be easily get confused when it comes to picking up the best beat maker app!
That is why we have gone through a bunch of top beat making apps and found you the top 11 beat maker apps for Android and iPhone. We have listed out all these top beat making apps which are free to download and easy to use, so take a look at the list and get a better idea of what you can find in these best-making apps!
Beat Maker Apps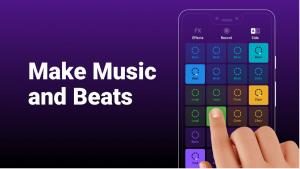 Music Maker Jam is one of the best beat making app for iPhone and Android, it provides its users a great platform to create new beats and mix music! Users can also do a remix of their music and easily share via this app. The app is suitable for all kinds of music such as Trap, Hip Hop, House, Rock, Pop, and so on. So no matter which is your favorite genre you will love this app to create and remix the music and beats!

There are thousands of studio-quality audio loops, beats and samples are present which will help you to create new music, and once you have completed the music you can easily share it with a worldwide audience via this app.

This beat maker app contains more than 10 free mix packs from which you can easily create your own sound. Users can also record their own vocals and share their work via SoundCloud, Facebook etc and join the community of various artists!
2. Groovepad – music & beatmaker Android / Iphone

Goovepad is too a famous beat making app which has been downloaded by more than 10 million people all around the world. It has been considered as a DJs best platform to make beats and produce their own sounds.

The unique think about this app is that, it is beginner friendly so if you have just started exploring the music industry, this app will teach you how to create your own song and how to play different music tracks. Live loops are present which you can use and create a first-rate music.

The app also has a number of FX effects such as filters, delays, etc. Its library holds all kinds of different music genres to explore and experiment! So if you are looking for the best beat maker app then you can totally go for Groovepad!
3. BandLab – Music Recording Studio and Social Network Android / Iphone

You can get the idea of this app by its name, BandLab is one of the best platform to create your own music and share it with a worldwide community of artists and musicians. Here users can create the music from scratch by exploring its number of different features!

The app contains many effects, beats, loops, filters, sounds etc. Users will also find almost all kinds of genres! Here you can easily share your creations with the app's own community and become famous and a known personality through your music composing talent.
4. Drum Pad Machine – Beat Maker Android / Iphone

Drum Pad Machine is one of the top beat making app for android and it has more than 50 million downloads, which is huge! With this app you have a chance to become beatmaker and create your own music by mixing loops, record your own vocals, etc.

If you are new then you will learn the basics of music creation which you hardly find in any other beat making apps. Users can easily compose tracks and make mixtapes! It's easy to use where you will find different sectors categorized by different colors so that you can easily create the music of your taste!
5. Beat Maker Pro – Music Maker Drum Pad Android / Iphone

Beat Maker Pro is too a reputed beat making app to download and here you will find a number of features which will help you to create the beats of your imagination. This one is one the best app for the job and you will be surprised to know its options for various kinds of beats which you can mix to any music!

This app provides its users a guide from which users can easily learn how to make beats from the app. It's fun and easy, and new soundtracks are added every week so you will never run of out of soundtrack and beats. Its colorful drum pad design is too attractive. The app also has an HD studio audio quality!
6. Groove Mixer – Music Beat Maker and Drum Machine Android

If you are looking for a beat-making app which provides a piano roll to mix then Groove Mixer might be your top choice. Here users will find both the piano mix and drum machine. With this app, users can easily mix, arrange, and play audio loops and drum patterns.

You will find many features from which you can improve the sound, such as various sound effects (filters, delays, compressor, etc). Overall it's a pretty great beat maker app.
7. Hip Hop DJ Beat Maker Android

Just as its name suggests, it is one of the best beat maker app 2021 which has become every DJs favorite whose favorite genre is hip hop! Here users can create hip hop music and add Hip Hop beats to their music. The app has more than 250 Hip Hop sample loops to mix. And when after completing your music, you can easily share your music creation with your friends or other music communities!
8. Song Maker – Free Music Mixer Android / Iphone

Song maker is a free beat maker app that is popular for composing songs and create g new beats. Millions of people are using this app to create, edit and mix the music. There are thousands of free sounds, beats and loops are present.
9. Drum Pads – Beat Maker Go Android / Iphone

Drum Pad is too a well-known beat maker app which is popular for its impressive beats and different music styles. There are a total of 32 pads present in two banks. You will find 4 effects on your smartphone and if you have a tablet then you will get 5 effects.
10. Hip Hop Producer pads Android / Iphone

If you are interested in hip hop music then Hip Hop Producer Pad might the best beat making app to download for you. The app is popular among hip hop loves to create g their own hip hop music here.
MixPads is a free beat maker app for android. Users can easily produce the beatbox and mix songs. This app is also popular for making remixes! You will find a number of drum pads and original music loops. Its flexible launchpad is impressive too.
Conclusion

So these are the best 11 apps for making beats that we have found for you and they all work just fine in this field. You can literally pick any of the beat making app from our list and you won't be disappointed. Thank you for visiting our agenda we hope you find this article helpful!