How many of you are annoyed because of your earphone? I think the number would be pretty high that is because you guys are visiting our page to find the best apps that can boost the volume of your earphone. Before people raise their eyebrows to this matter let me tell you that yes, it is possible to boost the earphone volume via some applications.
Although you would find a number of applications that would do stuff like this, big not all of them worth your time and energy and that is why we are here to provide you a list of best earphone volume booster apps 2021 for Android and iPhone.
Take a look at our article and pick the app that you find most appealing. Let's not waste any more time and get started!
Earphone Volume Booster Apps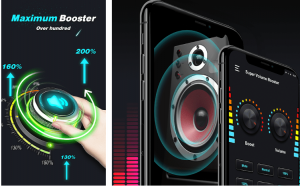 1. Volume Booster Pro – sound booster for Android

Volume Booster Pro is one of the best earphone volume booster app for Android. You can get the idea of its popularity with the fact that it has more than 10 million downloads and it has a high rating of 4.7 out of 5 which is pretty great!

The reason behind its popularity is its many features including the fact that it supports headphones, external speakers, and Bluetooth! With this app, you can easily boost the volume of all the music media (audio, video, and game sounds!) and system volume (alarm, ringtone, etc).

What will impress you about this app is its wonderful sound spectrum, which works according to the audio rhythm! Music player control will display the information about the music albums! Lastly, the app is easy to use and you can easily set the volume to your preferences. And no roots are required to use the app!
2. Headphones Loud Volume Booster Android

Headphone Volume Booster is also an amazing app to boost the volume of earphones. Where many other apps are designed to boost the overall volume whether it's media volume or system volume, this app is specially designed to boost the headphones volume.

Since some people are tired of using their old earphones which doesn't work well, this app is no less than a blessing for you guys! Here you can easily use the app and control it with its beautiful and intuitive design. The app boosts the sound for music, audiobooks, and video volumes! Overall it's a great app that does a pretty great job when it comes to raising the volume of earphones!
3. Speaker Boost: Volume Booster & Sound Amplifier 3D Android

Speaker Boost is a perfect earphone volume booster app for android and iPhone. Here too, you will find a number of features which will make sure you get the sound you deserve. You can easily increase the sound of your phone and headphones where you can easily hear the bass with boom and gear the tiny details of music.

No root is required to use the app and you can easily set the sound with just one tap, yes it's that easy! The design is simple and intuitive where you can set the sound at different levels and hear the music at the loudest sound! Speaker Boost definitely worth a try and you would like this app if you want to hear the music at it's loudest point!
4. Volume Booster GOODEV Android

Volume Booster is yet another great earphone volume booster app to download. The app is really popular because of its great features which make sure you never have trouble listening to the music at low volumes! This app to have over 10 million downloads and you will be happy to know that people have left some positive reviews about the app.

The app works great for boosting the volumes for music and apps but it doesn't raise the volume for phone calls. Although the app itself advised ton of raise the volume after a certain point as it can damage the phone's speaker and hearing (when using headphones), it's has been clearly stated that raise the volume at your own risk. But if you want to raise the volume to a certain point then it will be cool.
5. Extra Volume Booster – Loud Sound Speaker Android

People have found Extra Volume Booster app really helpful when it comes to boosting the volume of music, apps or games! You will be able to get the sound to the maximum. This app also comes with bass booster effects and stereo sound effects.

One of the best features of this app is, you can easily audio boost for calls too, this feature is special because it's hard to find in other apps. The app also comes with equalizer sound boosters. It's intuitive and user-friendly interface is too impressive.
6. Super High Volume Booster – Loud Speaker Booster Android

Super High Volume Booster is all you need to boost the earphone volume! This earphone volume booster app claims to raise the volume by 60% which is pretty high and impressive. This app too has a number of features which makes your music experience to the best and you can control the volumes for the music with some additional feature.

The app has a 1 tap feature to increase the volume, the app will increase the volume for audio, video, calls, alarm and other notifications! The app will also increase the sonar system and bass systems. It's a pretty great app on which you can completely rely on!
7. Volume Booster For Headphones Android

Volume Booster For Headphones will help you to get the highest volume when you are using headphones. It is one of the best earphone volume booster app for Android where you can completely customize the volumes of your phone.

All the functions can be performed by one tap function. You can also increase the bass sound on headphones. The graphics are realistic and its interface is too intuitive. It features a mix mode volume and a virtual effect sound louder. There are a number of features available by which you can boost the quality of audio on your phone.
8. Ear Speaker Volume Booster Super Hearing Android

Ear Speaker Volume booster is an unique app that you need to download if you want to record the audios and listen to them too much higher volume then it was recorded. This app can be used as an Audi-phone too.

It has a unique feature by which you can record the sound of your phone's mp3 audio sounds. The app will help you hear better no matter what is the voice.
9. Volume Booster & Sound Enhancer Music Player Android

The app features 6 different modes namely, custom, music, outdoors, sleep, meeting and silent. The app helps to increase the volume of media, notifications, and alarms. It basically focuses on the music enhancer with customized sound equalizer and visualizer!
10. Headphones Volume Booster & Bass Booster Android

Just as its name suggests, this one is a popular free earphone volume booster app which helps you to enhance the volume of music and other sounds in your phone when you are using your headphones. Its a lightweight app so it won't take much space and you will be able to boost the volume when you have your headphones on!
11. Super Volume Booster – Sound Booster for Android

Super volume booster is another free earphone volume booster app where you can easily enhance the music experience by increasing the sound with stereo sounds, live sound spectrum and any other advanced features!
Conclusion

So these are the perfect apps that you can find to boost the volume of earphone. We hope you find the app that finds perfect regarding your needs! Thanks for visiting our page and we hope the article was helpful!