Video games are a major part of today's generation. We are lucky to have so many genres of video games that we can play on numerous platforms. So it's safe to say that there is something for everyone when it comes to video games. This article is for WWE games lovers. Since the WWE games are pretty popular among the people these days as everyone wants to feel the rush of being a WWE champion and defeat the big guys with their fighting skills.
As much as we love the genre, finding a perfect WWE game for PC can be a tedious task. Because there are many WWE games for PC available but not all of them worth your time. That's why we have decided to help you by introducing you with the best WWE games for PC! Take a look at the list where you will find our top ten picks for the best PC WWE games!
WWE Games For PC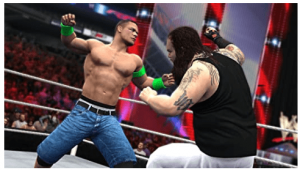 WWE 2K is a popular series when we talk about some of the best WWE games for PC. This is the latest game in the series which was released last year. The game features numerous modes that will give you a full adrenal rush fighting against the top WWE participants and making your way to the championship!

You will find tower mode, showcase mode (which revolves around 4 horsewomen of the WWE), and a career mode for both males and females. The game can be played in both single as well as multiplayer mode.
It's the 20th game made in WWE series and just like the above one, it got popular for being the game of a popular series. This one also features many different game modes to play and you will be more than happy to play them. Accurate physics and quick response of AI is what made this game one of kind. It was kinda revolutionary of its time, so you should definitely try this out.  You can either play the game against AI or challenge your friend in the multiplayer game mode. Either way, keys gonna be fun and you will end up playing for hours.
It was released in 2018 for PC through Steam and it's a great option for those who have already played every game in the WWE series. Just like the WWE series this one also a part of a popular series that has been around since the year 1989. There are numerous features of this game which makes it this popular. You will find good animation, good graphics, and smooth controls. This may look retro but it has all the modern technology.
If you are one of those people who just want to see the players with great physic and good bodybuilding then this game is for you! Here you will find some of the best players with good wrestling skills. This game will definitely test your wrestling skills so be ready to become the best wrestler.

The game also features several game modes such as Path of Champions where you will be among the 10 man gauntlet and struggle to win the championship. Another game mode is Fantasy Warfare which contains dream matches between legends and their modern-day equivalent.
See there are many games in the WWE series and it's one of them which made its place in our list of best WWE PC games. The game was appreciated for its enhanced graphics and return to Kurt Angle to the series as a playable character. Another major feature of this game is Carry System where players can pick up the opponent and place them at a specific place. You can also customize the player with a glow effect. Overall the game has some distinct features from the rest of the series so you should try them out sometime.
This game is made for those who love to play with ladders and table type matches and wants the brutal game. This one also has the potential to be one of the best WWE game for PC. The best part about the game is its realistic physics and gameplay.
Another game from the same series but it can also give you a totally different experience! Although the game lacks showcase mode you will see some expansion in the MyCareer mode. So if you are a fan of My Career mode then this is one of the best WWE games for PC.
This game was released in 2011 and it has introduced the new system where wrestlers perform different moves depending on their physical condition. Although this was criticized as players were not able to use the moves they want. The weak and strong scrabble system was removed from this game.
WWE RAW 2 might a change for those who want to play something else (other than wwe series games!). Players have loved the season mode. There is also a superstar mode too which is quite fun to play. There are also a set of rules present so it will interesting to see if you can play by them!
WWE 2k16 is also a kinda game in which you will have fun playing. There are a total of 120 playable characters which is double the previous games in the series. Players have also loved the concept of various seasons and modes introduced in this game!
Conclusion:

So these are the best WWE games for PC and we have selected them by considering their sold copies as well as ratings given by players. Go ahead and choose any of the WWE games for PC that we have listed here and you won't be disappointed.

We hope you found the article helpful and you finally made your decision about which game you wanna play next. You can also find similar articles on our page, so keep coming, and thank you for visiting!