We have written many articles on different authors and their popular books, but this one is special as we are going to talk about the author who has given us one of the best romantic novel, The Fault in Our Stars! Yes, we are talking about none other than John Green. He is is a popular American novelist as well as a YouTube content creator. He has written many books in the genre, Young Adult fiction, romance, etc. He has also won an award for his debut novel Looking For Alaska.
This article focus one his books and we have bought you all his books and that too in the publication order so you can easily find out all the books in chronological order and where you start from.
But before we start our list of John Green books in the order we would like to present an introduction for the famous author.
About John Green –
John Michael Green was born in Indiana in 1997. His family moved to several cities and then finally settled in Florida. He then attended Indian Spring School from where he took inspiration for his first book, Looking for Alaska. He did double majors in English and religious studies from Kenyon College in 2000. Before becoming an author he worked in a children's hospital as a student. And it was the experience which inspired him to become an author and write a book like The Fault in stars. He has also worked as a publishing assistant and production editor. This was the time when he was also writing his first book, Looking for Alaska, which was released in 2005.
He has also worked with his brother and brought about 11 online series which also include an online educational channel that teaches literature, history, science, etc. His books have been nominated for many awards and some of them have won awards as well.
This is all you needed to know about the author and now it's time that we start our lists for John Green's books in order that you were looking for.
John Green books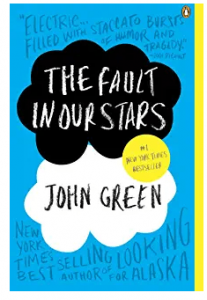 Looking for Alaska is the first book by John Green that you will find. It was published in the year 2005. This one is from the youth-adult fiction genre. Even though the book is fiction, it also features some elements which were inspired by the Author's real life.

The story focuses on the character of Miles Halter, who is also the narrator of the story. He is in his hoarding school and currently searching for "Great Perhaps" the famous last words of Francois Rabelais. The first half of the novel features the protagonist and his friends getting closer. Meanwhile, they also face the death of their friend, Alaska. The story then moves forward with Miles and his friends finding out the missing details of Alaska's death.

The novel features the feeling of grief, and young friendships/relationships. This book has also won an award. So it is going to be a good read and for being the first book by the author this has really impressed us as well.
An Abundance of Katherines is the second novel by John Green and it was published in the year 2006. This one is also from the youth-adult fiction and romance genre. The story follows the character of Colin Singleton, a child prodigy living in Chicago. He lives his life in a fear of not being the "genius" in his adult.

There is one more abnormal thing about him, he has dated about nineteen girls named Katherine. And when the nineteenth girl dumped him, he feels like a worthless person and he is not being able to feel whole again. Although he hopes that he will become a genius by having a "Eureka" moment. He then takes a road trip with his friends that might change his life.
This one is another novel by John Green but it was coauthored by Maurene Johnson and Lauren Myracle. As its name suggests the novel features three different romance stories that intervene with one other. The three stories are The Jubilee Express, The Cheertastic Christmas Miracle, and The Patron Sait Of Pigs. The story features three different teenagers who visit the Gracetown during the Christmas season.
Paper Town is the next novel by John Green and it was published in the year 2008. This novel features the character of Quentin "Q" Jacobson who is in search of his Childhood sweetheart and neighbor Margo. Quentin and his friends are in search of Margo and they soon discover some information as well. This one was also entered in the list of New York Times bestselling books and gained appreciation as one of the best children's books. The book also being adapted as the film.
This one co-authored by John Green as well as David Levithan and the book was published in the year 2010. The book follows the characters of two boys, both named Will Grayson. Green has written for one Will Grayson and David has written for the other. The stories of both Will Grayson presented in the alternate chapters.

The book has been appreciated for being the first LGBT young adult novel for being listed in the New York Times bestselling list. You will enjoy the book and it's a unique concept and writing style.
The book has been written by four different authors, and John Green is one of them (obviously!). This one is a collection of the stories which features many themes and emotions in them. You will find them creepy, affecting, and some times even funny and inspirational.

This is a collection of both stories as well as poems. The stories involve two girls who never met with each other and their sacrifices and the unexpected life events that affect one another. The book has been inspired by the Darfuri refugees and their stories of hope and survival.
Perhaps one of the most popular books by John Green and there is a high chance that you might have heard of its name. This one is the most popular and appreciated book by John Green and it was released in January 2012.

The story features two people, one suffering from cancer and the other one is an amputee. They both meet each other in a support group and fell in love with each other. The book focuses on their feelings and how to cope up with the situation. The book has been also adapted as a film under the same title. And there are has been also may film being made on the book in different countries and languages.
This one presents the works from different authors and their popular works. And here you will also find some notable work from John Green as well. There are many different stories in the book and some of them do shine among the others. Although this one might be a true "John Green" book, you will definitely find his signature writing style and some other stunning stories.
This one is the latest book by John Green, and it was published in the year 2017. It is the fifth solo book by John Green and you will definitely love it as it brings out the signature writing styles or John Green.

This one is also a young adult fiction novel that focuses on the character of Aza Holmes who is a 16-year-old girl suffering from OCD. She often fears the human microbiome. Although she does have her two best friends besides her, Daisy and Mychal. There are many different things that the author talks about and mental health is one of them. So it's definitely one of the best read by John Green that you can take up.
10. The John Green ESampler

Although this one is not a full-fledged John Green book in the order, but we have mentioned it as it featured the popular experts from some first books by John Green. So you can read it and you might like it as well.
Conclusion

So these are the John Green books in order that you were looking for. We hope you found the article helpful as we have shared the plot of the books with you guys as well. Now choose your favorite book from John Green and enter his universe to be surprised, to feel all the emotions, and bring a new book in your life. Thank you for having us and keep coming for more and more such articles.