Gone are the days when people (gamers!) used to settle with a regular mouse for playing regular on their PC. Nowadays, people actually put a lot more thought into their gaming essentials such as a good laptop for playing games, gaming mousepad, and of course the gaming mouse!
And when it comes to choosing a gaming mouse, you might find it a little challenging considering the number of choices we have in the market these days. The tougher part is to choose among them and find out which one would be right for you, and it will be even more challenging if you have never bought any tech product before. So we have bought out this article to help you to find the best gaming mouse pad for yourself.
See, if you don't have a budget limit you can easily buy the best one but the real challenge is to find the best on withing your set budget. And in this article, we are going to name a few best gaming mice under $70. To help you further we have also shared a buying guide at the end of the article so you know what will be right for you. So let's get started with our list of best gaming mouse under $70.
Gaming Mouse Under $70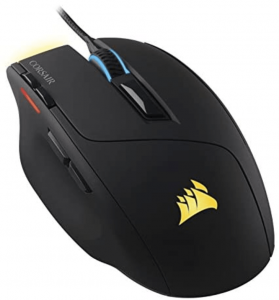 Logitech is a well-known brand when it comes to the best gaming mouse! It's has provided plenty of gaming mice at a very affordable price. The reason why we picked this is because of its comfortable shape and size that suits a variety of hand sizes. It also features RGB lighting as well.

It also features a textured scroll wheel for quick weapon changes so that you never get late picking up your favorite weapon in the game. It also has 11 programmable buttons. You will also find a braided cord that ensures it's durability. It weighs around 125g as you can also adjust the weight as well. It comes at a cheaper price than most of the other gaming mouse.

Pros-

Comfy design

Adjustable weight

Tracking speed 400 IPS
SteelSeries is also a reputed gaming mouse brand that you will find in the market. This one comes with 16,000 DPI which is ideal when it comes to gaming. It also features 2 sensors that will improve your gaming experience, as it reduces errors and jitters. It's also tough and durable and unlikely to break easily so for this price you are getting a long-lasting gaming mouse.

It also comes with an adjustable weight (96-128g). This one is easy to customize and you will be able to enjoy your game without any complications from the mouse. You will also find 7 programmable buttons. It is indeed one of the best gaming mice under $70.

Pros-

Adjustable weight

16,000 DPI

7 programmable buttons
Our next pick for the best gaming mouse under 70 dollars list is Utech Smart, this one has impressed many gamers and has become a top choice as well. The mouse features 12 buttons on the side. It's cool RGB lights has impressed us even more as it gives a subtle feel of a gaming mouse. Its comfort grip is another best feature. It features 16,400 DPI for effective functions. Lastly, the gaming mouse is durable and gives you the value for your money.

Pros

Ergonomic design

Durable material
Redragon is also a leading gaming mouse below $70. It features high DPI sensitivity which can be adjusted (1000 DPI – 16000 DPI). It shows both wired and wireless connectivity. And you will also find programmable buttons with absolute control.

Pros-

Adjustable DPI (1000-16,000)

Wired and wireless connectivity
Roccat Kain is also a trustable gaming mouse that you can buy under 70 dollars. This one also features DPI up to 16,000. And you will find it extremely easy to use with its 89g of weight. And due to all these features, it won't be wrong to say that it is one of the best gaming mice below $70

Pros-

Titan click buttons

Ergonomic design

Value for money
With 10,000 DPI and a comfortable design, Corsair Sabre is our next pick for the best gaming mouse under $70. It's an accurate sensor is that has impressed gamers.

Pros-

Good grip

Accurate sensor
Asus Rog also impressed us and made a place at our best gaming mouse under $70 list. This one features removable buttons as well as cool RGB lights. Omron switches another impressive feature. It features 12,000 DPI sensors. It delivers an overall great performance.

Pros-

12,000 DPI

Removable buttons

Omron Switches
Conclusion

Here we have listed some of the best gaming mice that you can find in the market. If you are gamer you must value the quality of mouse and luckily this price range features quite terrific gaming mouse which will help you to enhance your gaming skill and one thing would be sure you won't be defeated just because your mouse isn't working properly or it's not allowing you shine in the game!
To help you further while choosing the best gaming mouse, we have prepared a little buying guide which considers a few important factors that you should be looking in a gaming mouse!

Buttons – Buttons are definitely one of the important criteria to look in a gaming mouse. The buttons of the mouse can highly affect your game. As you don't wanna deal with poor quality buttons. Furthermore, some people prefer to have numerous buttons on their gaming mouse for easy functionality. We have made sure that the above-listed gaming mouse features good buttons.
Sensors – Good sensors are also an important element in a gaming mouse and you have to be sure that the gaming mouse you buying for yourself features good sensors that are accurate and reliable.
Size – The size of the mouse is also something you need to look at. Every gamer has their own preferred size of the mouse. Some like to buy a sleek mouse for fast response and others like the quite large gaming mouse which features many buttons.
Durability – You don't want to buy a gaming mouse that will last for a few months, so make sure the mouse you invest in is durable and has a rigid construction within this budget but we have made sure the above-listed gaming mouse.
RGB Lights – RGB lights may or may not be useful they add a taking feel in your mouse so you can look for RGB lights that look good on your gaming pad.
DPI – People often consider DPI with sensors of a mouse but it would be wrong, a DPI is a hardware feature that tells you, how many dots the cursor can cover within an inch. Whereas the sensitivity of a gaming mouse is related to high speed and accuracy!

We have tried to help you with every aspect of a gaming mouse and we hope you have found the best gaming mouse from our list. So thank you for visiting us, glad we could help you!