Gardening is my favorite hobby, I just love I feel when I work with plants, flowers, and plant variable things in my garden! But it's not that easy for gardening we need to have the perfect knowledge of plants and how we can take care of them. If you're highly interested in learning then you would know, gardening needs a lot of tools. And that's why we are here.
Tools are an essential part of gardening and you need to have all the necessary tools in order to grow your plants and take good care of your whole garden. There are plenty of tools available in the market. But they can cost you a fortune! In this list, we have picked up the 10 best tools that every person who loves gardening should have!
So let's begin the list and find out which tools you need to buy and the best thing is they are budget-friendly too so you can easily buy them!
Tools For Gardening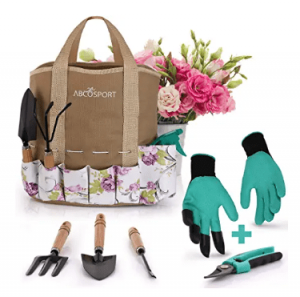 A right pair of gloves is the first thing you are gonna need if you are planning to start gardening. As pretty as the flowers look in the garden, maintaining them isn't that pretty. And obviously you do wanna cover your hands with the mud or get thorns on your hands that can cause some bleeding or you can even catch an infection if you won't be careful enough!

Before buying the gloves you should see if the gloves match these criteria:-

They should be durable so that you don't have to buy a new pair every second month. And they shouldn't be bulky either so that you can easily work with fine seeds and small plants.

You should also see if they fit you correctly, poorly fitted gloves can be a big problem. The gloves must be water-resistant else there would be no point in wearing them in the first place. The fabric should be breathable and so your hands remain comfortable while working.

Long cuffs are also recommended as they would protect your forearms too. You should always keep your gloves away from water and sunlight in a dry place!
When you have a big garden, you need to plant new plants as well as control the ones that are overtaking other plants or larger areas of your garden. For that, you need to cut the small stems or leaves out of the plant! For this, pruning shears will be needed.

Generally, an anvil style pruner is most suited for gardening use. In this, you will get a sharp blade that will meet a flat surface. It would be like a knife along with a chopping board! These are really sharp so you can easily cut dead woods as well as greener stems. There are many types of pruners available in the market so you can choose the one that serves your needs best!
Loppers are another type of cutting tools but they are different than pruners as they are used to cut harder and thicker branches. They have long handle which is used to cut hard to reach branches. Their handles generally vary from 16 to 36 inches.

Just like pruners they also come in different types, for example, bypass loppers are more precise than anvil type loppers. Longer loppers will be heavier in size and you can easily cut harder stems or branches. You can choose the lighter lopper if you need to, aluminum handles can be a perfect choice for that.
Garden fork is an essential and must-have tool if you have a bigger garden. The garden fork is needed to turn the soil and digging into dense soil. According to experts, forks that are slightly curved are more useful to turn the compost piles.

If you are looking for a digging fork than you should buy straight tines which are better for digging and will go with rocky or clay soil too. Square tines are also considered best as they can easily bend when they hit a rock or root. Overall it is one of the most important tools for gardening which you should buy!
Hand trowel will be needed no better if you have a big garden or a small one. These are basically a small tool that is used to transplant bedding plants, herbs, and taking out weeds that can harm your pretty plants.

While selecting the best hand trowel for yourself you need to know which one is best to do what, for example, broad blade trowels are used for moving soil while the long and narrow blade trowel is used to dig up weeds or dig rocky soil. Take a good look at the handle too as it should be git perfectly in your hand or else it will be hard to work with that. If you are looking for a more durable trowel then always buy that is made from stainless steel!
Spades are considered as one of the key tools of gardening. Whether you wanna dig a small hole for plants, move small molds of dirt from one place to another or shift the sod, you will need a spade for sure. We won't recommend you to buy a cheaper spade because this is something you are gonna need for every small thing related to gardening. So buy the right one that is strong and durable.

There are different types of garden tools available and again you will need to buy the one that suits you the most. Stainless steel heads are stronger as well as more durable than any other spade.
Rake will be useful to whisk away the dead leaves and keeping your garden clean and beautiful looking. So keep away the messy piles of leaves by buying a good quality rake. Adjustable rakes would do the best job and you would wanna prefer a steel tines as they would be stronger.
How can we not include a tool that will be responsible for the life of your garden! You have to include a good quality gardening hose in your garden tool collection. You should buy a hose that can easily reach and spray every area of the garden. Adjustable nozzle should be your priority too as they will control the pressure of water. Choose the perfect length of hose that goes with the needs of your garden.
We don't really need to tell you why watering can is necessary and its important that you have one in your collection of gardening can. There are a number of watering can available in the market. We would recommend you to buy a metal can instead of a plastic one. These wagering cans are available in different colors, sizes, and nozzle option.
Wheelbarrow is best suited for the big gardens where you need to move soil in large quantities or even mulch. There are different types of wheelbarrow available but you need to find the best one which has perfect size and shape!
Conclusion

So these 10 gardening tools should be in your garden no matter what. They are inexpensive and do the job most effectively.