If you have just started to live on your own then the first thing you need to take care of will be monthly bills. There are a number of bills which you will have to pay on time, such as electricity bill, water bill, phone bill, wifi bills and even your monthly rent or gym fee.
We know it is a tough job to keep track of your monthly bills and that's why we have bought you 10 best bill pay reminder apps for Android and iPhone. So take a look at the list of best bill pay reminder app and pick the one that suits you the best.
Bill Payment Reminder Apps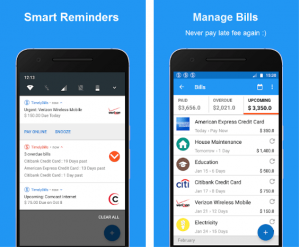 1. Bill Reminder, Budget & expense Manager App Android

As its name suggests, this bill pay reminder app is one of best and you will never forget to pay you any bill on time. You can manage a number of things with the help of this app, and it includes your monthly expenses and overall budget too.

You can easily get your expenses in control according to your monthly income which will help you save more. The app alerts you fir your every purchase or spending so that you can make a budget for yourself. The app also gives you a report which helps you understand your monthly spending better. Furthermore, users can generate a pdf or Excel-based report.

You can also sync the data across all your devices such as smartphones and computers. Additional features consist of alerts for upcoming and overdue bills. You can also add the bill calendar widget on your home screen. Users can also categorize their spending. Users would be able yo attach receipts for future reference of their spending. Lastly, the app supports almost all the worldwide currencies, so no matter where you live you can always make use of Bill reminder app!
2. Just Reminder with Alarm Android

Just Reminder With Alarm is another popular bill payment reminder app which has millions of users. It's kinda an all in one app which features a calendar which will help you easily remind the bills you have to pay along with other important events in your life such as birthdays, events etc.

You can easily customize the app by setting up the alarm for your future bills which you will have to pay in the end/start of the month! You can easily add your shopping lists and make a budget according to it. There are a number of features which you would love yo have. So you can try this app if you never wanna miss a bill to pay.
3. Bill Reminder Android

Bill Reminder is one of the best app which will manage your monthly bills and you will never miss a deadline to pay the bills. There are a number of customization features present so that you can set the currency and reminder time etc. You can easily organize the bills as upcoming bills, paid bills, unpaid bills (along with due date).

Bill reminder is an easy to use app which sorts out all of your bills and categorized them as you would prefer. The app is 100% free to use. People have loved the app for its easiness, so we would recommend you to use this app for your monthly bill!
4. Bills Reminder Android

Bills reminder is a great app which will ensure that you will never have to pay the late fee. It is basically a bill organizer app which will help you to manage all your bills. The app has an intuitive interface, you can enter your bill payment amount and the due date of that bill. The app will remind you to pay the bills before the 5 days before the due date.

Best thing about this app is the fact that it doesn't matter if you open this app or not you will receive the notifications anyway! You can also attach the receipt of your bills to have a better idea for your expenses!
5. MyBills – Bill Reminder Android

MyBills is also a popular app which helps people to easily manage their monthly bills. You can easily get the notifications and reminders for the bills which have added in the app.

If you are the kind of person that needs to get all the bills payment history then this is a perfect app for that. The design of this app is simple and intuitive and you will also love the way to manage your expenses or remind you for your upcoming bill payment!
6. MoBill Budget and reminder Android / Iphone

MoBill is a popular bill payment app that will help you to keep track of your monthly bills. The app presents you the calendar view where you can easily get the information about your income and expenses.

The advanced features consist of cloud syncing of your data across all your devices. The app also has password security so that you won't have to worry about your data getting in the wrong hands! It also an inbuilt calculator so that you can easily do the calculations. You can also customize the categories.
7. Reminder with alarm Android

You can never go wrong with the  Reminder With Alarm when it comes to paying the bills. This app is helpful for the people who tend to forget the bill payment due dates. It's an overall app where you can easily add any events including the bill payment dates.
8. Bill Monitor Free Android

You will like Bill Monitor Free app if you want a simple yet effective app which reminds you of all the bill that needs to be paid on time. Calendar view is available and you can also save the invoice receipts. You bill managing will become a cup of tea with this app.
9. Bills Reminder Android

It is one of the advance bill reminder app which features a number of things like reminding you for the bills, managing your expenses etc. It shows you the expense graphs so that you can easily understand your monthly financial status.
10. Bill Reminder Android

Bill reminder is a free app that lets you do the math when it comes to managing the monthly bills of yours. The app features an intuitive interface and you will be able to easily add new bills. It also has an inbuilt calculator which makes it easy to calculate your monthly spending on bills!
Conclusion

So these are the top apps that we find worthy of your time and these will take care of your monthly bills. We hope you find our article helpful, thanks for visiting!