Percy Jackson, also known as Percy Jackson and the Olympians is a popular book series by author Rick Riordan. This series talks about monsters and the supernatural. The book series has been widely appreciated and became one of the most loved fantasies and children's adventure books. The book won't fail to amaze you with its adventures. The books stayed on The New York Times Best Seller list for 245 weeks! For a children's book, this sure sounds a big deal.
This series consists of a total of five books that were published between the years 2005 and 2009. The books have been adapted as a film and whether they become successful. And the TV series adaptation of the books is also in the talks.
In this article, we are going to name all the Percy Jackson books in order, because it's kinda important that you read in its chronological order. But before we talk about the book series in order you must know what this series is based on and a little bit about the author as well.
About the Author Rick Riordan –
As we have mentioned earlier the book was written by Rick Riordan. His full name is Richard Russell Riordan Jr. He is an American novelist who Is popularly known for his notable work in mythology fiction! He is best known for his Percy Jackson and Olympians series. Although he has written some other book series as well such as Kane Chronological, The Maze of Bones, etc. His writing career was started in the year 1997 and till now he has done some of the best work by introducing some of the best book series. His books have been translated into forty-two languages and sold more than 30 million copies till now. He has won many awards till now and his books has been also adapted as movies.
About the books series Percy Jackson –
The book series, as you can guess, features the character of Percy Jackson who is a 12-year-old teenager. His life changes after he was attacked by a Minotaur, after this incident he discovers that he is a demigod, son of Poseidon (Greek God of the Sea!).
From there he finds himself at a Camp Half-Blood, which is a training camp for demigod like him. The series talks about his various adventures in the camp and the people he meets in the camp.
That's all you needed to know about the series and the author. Now let's start our list of Percy Jackson books in order so that you can start the series with the right book.
[toc]
Percy Jackson Books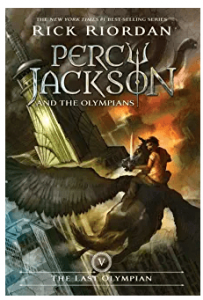 This is the first book in the Percy Jackson series that was released in the year 2005. The story starts with Percy as a normal kid but soon he discovers soothing unusual about himself and the events that are taking place in his life lately. His mother knows it's time that Percy finds out about the truth about himself.

Percy, who is struggling in accepting that he is a demigod and son of the Greek God of Sea has been sent to Camp Half-Blood where all the other demigods are also present. From here his first adventure takes place when a thief has stolen a weapon for mass destruction. He has to catch him with his friends, satyr, and daughter of Athena.

This book has won many awards for being the best book for young audiences and it has also been adapted as a film.
The Sea of Monsters is the second book in the series which was published in the year 2006. As we know that Percy Jackson lives in Half-Blood camp where he has met new people and getting used to this new life. In this book, the magical borders which protect Camp Half-Blood.

If he wants to save the Camp Half-Blood he must have to do something. And luckily there is away. He is now united with his friends Tyson, Grover, and Annabeth to retrieve the Golden Fleece from the island of the Cyclops. The only obstacle standing between him and the golden fleece is the time! He only has a few days to complete the task or the Camp will be destroyed by the monsters.
With the third book of Percy Jackson, the adventure has got even bigger. Percy and his friends have been fallen prey to an old monster that has arisen. He is powerful and somehow has the power to harm Camp Half-Blood. The book features important discoveries made by Grover that can help them or leads to a bigger challenge. Although there is a bigger challenge when they found out goddess Artemis, who is one of the most powerful goddesses has been missing. And now everyone is on a hunt to find her before it's too late.
Percy is 15 years old now and he has just started his freshman. He wasn't expecting everything to go smoothly but what happens next is also something he wasn't ready for- a war between Titans and Gods! In order to tackle this threat, Percy and his friends are on a quest through Labyrinth, an underground world that is full of dangers.
This the last book in the Percy Jackson series which was released in the year 2009. The book features the biggest adventure that is the war against the Titans. Now Percy and his friends are facing the biggest challenge and they must stop the Lord of Time! This is the last book so be ready to witness the monsters who are stronger than ever and how Percy and the other young demigods overcome this war.
Conclusion

These are all the Percy Jackson books in order that you needed to know about. The graphic novels versions were also released for each book. We hope you found the article helpful. We are pretty sure that you will be in awe for this Greek mythology-based adventurous series.

Thank you for visiting us and you can also check out other articles for different authors and book series on our page!