If you are a fan of the love story novels or the movies, you must have heard of Nicholas Sparks. He is the one who has given us gems like The Notebook and A Walk To Remember, these movies have become the new standard of love stories. These movies are inspired by the novels under the same title which are written by none other than Nicholas Sparks.
There is some kind of magic and charm in his novels that will make you fall in love with the idea of love itself. Once you would enter his world it would be hard to get out. In this article, we are going to share a list of books written by Nicholas Sparks, but before we do that let's read a little bit about the author.
Nicholas Sparks was born on December 31, 1965, in Omaha, Nebraska. He spent his childhood in multiple states of America. His parents were Catholic and that's why he has true faith in the religion. He has done his majors in business finance at the University of Notre Dame. During his early years in college, he developed an interest in writing. He wrote a couple of books during his early years in college, though they never published. He tried hard to get them to publish but was rejected by the publishing houses. After that, he tried his luck in other careers until he got a chance to co-write a book with Billy Mills, Wokini: A Lakota Journey to Happiness and Self-understanding. This book was a success selling 50000 copies in the first year.
After that, he started selling pharmaceuticals and also writing the books and this was the time when he wrote one of the most successful romantic dramas The Notebook. After this, he moved to North Carolina and started writing books. He has written 20 novels and two nonfiction books in his career and some of them have also been adapted as movies. Among the 20 boos, 11 has become New York Times bestseller!
In this article, we are going to name all his book and also described the plot of his initial books, so that you can decide which book to start with. Take a look at the list of Nicholas Sparks books in order and pick your next book!
Nicolas Sparks Books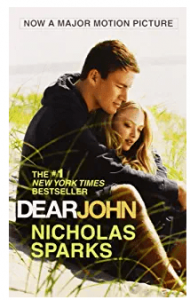 This was his first book which was co-authored with Billy Mills. It was published in the year 1990 and was proven to be a success as it sold nearly fifty thousand copies in the first year. The book is of self-help genre which helps the reader to develop an understanding of themselves. The word Wokini translates to 'seeking a new beginning'

The book has got a positive response from the readers and they have found it pretty helpful. It taught you about the meditation and respect for nature and enhance positive thinking. Overall it would be a good book to start with and you would love to read it.
The Notebook is indeed the first book of Nicholas Sparks and it surprisingly did well for a first book. It was published in the year 1996 and was become a blockbuster. The movie was also being adapted as a movie which was very successful.

This epic love story features the characters of Noah Calhoun and Allie Nelson. They were in love but somehow separated from each other. After 10 years they found each other and reunited. But they face many obstacles and the choices they have made in the past that affect their present. How they cope up with things that are out of their hands and do everything they can to stay together for as long as possible. This is an epic love story and its definitely a must-read.
Message in the Bottle was the next book by Nicholas Sparks and it was published in the year 1998. The story follows the character of Theresa Osborne who is divorced and disillusioned about romantic relationships. One day when she was out for a run on the beach she discovered a bottle with a message in it. The letter was from a man named, Garrett to his love Catherine.

Now Theresa is on a journey to find the writer. And the events that take place in this journey might change her life and make her believe in love again. It's a beautiful story about the power of love. In an interview, Sparks said the book has been inspired by the love story if his parents. This novel was also adapted as a movie that was released in 1999 under the same title.
A Walk To Remember is another masterpiece by Nicholas Sparks that you must read. The book starts with a prologue from Landon Carter at the age of 57. He talks about the time when he was 17 years old. He wasn't new to dating but he never thought of himself falling in love with someone but everything change when he meets Jamie who is the daughter of Baptist Minister. She is a pretty and intelligent girl and somehow keeping a secret from Landon.

When they fall in love and her secret revealed to Landon, his idea of forever changes and it breaks his heart. But in spite of all the events that are happening in his and Jamie's life, they keep their promise of loving each other forever.

This story was inspired by Sparks's sister who lost her life to brain tumor. The book inspired a movie that was released in 2002 under the same name.
The Rescue starts with the character of Denise Holton who has devoted her life to her four years old son. But her life soon changed when she was rescued by a volunteer firefighter Taylor McAden who saves her from a car wreck.

Taylor who has a history of falling in love with the women he saves and then leaving them when things start getting serious. But this time Denise tries to find out about the past of Taylor and the reason why he can't comment. Taylor on the other hand wondering if he is the right man Denise deserves.
A Bend in the Road features the story of a deputy sheriff Miles Ryan who lost his wife in a hit and run two years ago. He still is in shock and grieving for the loss. On the other hand, he has to take care of his young son, Jonah who is struggling in his school. His neglecting behavior in the school was noticed by his teacher, Sarah who asked him to bring his father.

When the two meet, they found each other attractive and their chemistry leads to something more. The story takes many twists and turns which shapes their future together.
This was the next book by Nicholas Sparks and it was released in the year 2002. The book features the two divorced characters, Adrienne Willis who is the mother of a teenager, and Paul Flanner a surgeon. They both fall in love with each other but destiny has some other plans for them. They both know that leaving the city means the end of the relationship. The story is a perfect example of love and sacrifice.

This book was also adapted as a film that was released in 2008 under the same name.
The Guardian is another beautiful love story by Nicholas Sparks which was published in 2003. The story features, Julie Barenson whose husband, Jim died four years ago and she is still struggling to move on. She has some great men in her life but somehow she finds it too hard to forget her late husband and start a new life.
The Wedding is a story about an old couple who found themselves out of love after 30 years of marriage. Wilson Lewis is taking inspiration from the book The Notebook and wants to make his wife fall in love with him again just before their daughter is about to get married.
This book is was co-written by Nicholas Sparks and his brother Micah Sparks. The book talks about the three-week tour around the globe with his brother. They relieve their childhood and share a new bond.
Dear John is a story about a young man who left school and found a new purpose in the army. After some time he also found the love of his life in Savannah. And they both face many obstacles to be together. How they will be reunited and what would happen with them will make you fall in love with the book.
Conclusion

So these are the Nicholas Sparks books in order that you need to know about. We hope you liked our article and found the book you have been looking for. Thank you for visiting us and you can also check other articles for other authors as well.