Our phone might be the best invention as it has changed our life. It has changed the way we used to communicate, the way we used to entertain us or the way we used to listen to to the music! When it comes to entertainment or listening to the music the earphones is what we turn to. Just like our phones, which are constantly evolving, the earphones to are changing its way too. We have used many types of earphones, like the traditional ones, blue tooth earphones and now the USB C type earphones and headphones.
The reason why we are using the type C earphones is because phone companies are emphasizing the slimmer phones. So they are trying to eliminate the extra things to reduce the spaces. And when it starting to happen, earphone jack came first. Although the Bluetooth earphones are invented too when they removed the earphone jack but not many people liked the change.
Some found them annoying as they feature the low sound quality as well as it's easy to lose them! And that's what we turned to the USB C type earphone which plugged in the charging port and we can enjoy the music just we used too. Although it's been a long time since they invented the type C earphones but people still get confused about what to buy and what not to buy. And how to choose the best type C earphones and enjoys our music with the best quality earphones.
There are a number of things which you need to look in type C earphones and headphones 2021, so take a good look at them so that you can have some basic ideas about what to buy and what not to buy!
Sound Quality: No matter what kind of earphones you are buying, you should never compromise with the sound quality! You should know that many people don't like using the Bluetooth earphones as their sound quality is not good enough (at least not in those which you can afford). So always look out for the earphones which features the best sound quality.
Noise Cancellation: Noise cancellation is another prominent feature which you need to look in the earphones. Although it's not common so you have to specifically look for it. A noise cancellation technology will make sure you don't hear the background noises when you are enjoying your favorite music or on a call.
Mic: Buying an earphone without mic is just a waste of money, because no matter what, sooner or later you will need to take calls using the earphones and when that happens you will need to have earphones with mic.
Inbuilt control panel or buttons: Inbuilt buttons are as important as the mic. As you don't wanna pick up your phone every time you need to change the song or pick up the call. So for true hands-free experience, you will need to have an inbuilt control panel.
Comfort fit and size: You don't wanna buy earphones which are not comfortable and can cause fatigue to your ears. Just like anything else you will also need to keep the comfort on the top of the list when you are searching for the best earphones for yourself.
Brand: A good brand is also important there are a few brands on which can blindly trust when it comes to the quality and feature-rich earphones. So if you are willing to spend a good amount of money always for the branded earphones.
Other than these criteria, you will also need to decide your budget so that you don't overspend. The earphones vary in price range so there are good chances you will find a good earphone in your budget.
So these are the things which you should look for in earphone but in spite of knowing what to look, a person can easily be confused about what to buy or what not to buy given the wide range of choices in the market. And that's why we have selected a few type C earphones which are some of the bests in the market right now!
Best USB C Earphones & Headphones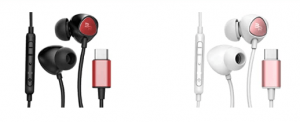 KUPOISHE USB C Digital Earphones Pixel.2 is one of the best USB type C earphones that you can rely on for the best music experience. This one should be the best choice for Android phones. Speaking of its sound quality you will get a good range of frequency as well as features the full stereo sound. With the presence of DAC (digital to analog Converter), they become more appealing to the people who just want the best sound quality. High-resolution sound as well as bass-rich performance will impress you.

Furthermore, the earphones also have a comfort fit due to its ergonomic design and thermoplastic polymer material. Integrated microphone and inline control are also featured in the earphones.
If you are looking for the best type C earphones which features the technology as well as the innovative design. The reason why we felt the need to include the earphones is their phenomenal controls which made the earphones one of the best in the market. Its control doesn't restrict to the volume, changing songs or taking calls, but it allows you to open the apps as well as put the calls on silent.

And the next best thing in the earphones would be its noise cancellation feature. With this, the noise from the background will be completely blocked out and you won't feel any disruptions while listening to the music. The earphones also takes the "Hey Siri" command.
Mijiaer is also a great choice for USB Type C earphones. What we like in these earphones, is its amazing features as well as it's budget-friendly price. These earphones can go with any android phones. You will love them for their comfort, as the earphones are lightweight and their skin-friendly material.

Speaking of its sound quality, you will find an enhanced bass-rich sound system which is geared slightly toward lower response. These earphones also feature the DAC technology providing sound with more clarity without any audio loss.
Acessorz is our next choice for the best USB type C earphones. The earphones comes at a very affordable price and features great quality as well. You might find it too good to be true but trust us, these are a real deal when it comes to quality rich type C earphones.

It features crisp stereo sound quality which makes it a good pick for all the music lovers out there. As its name suggests it features the magnetic earbuds which will prevent the tangling twisting of earphones when they are not in use. Although the earphones are compatible will almost every device with Type C charging port but still make sure they work with your phone before buying them.

They are also highly comfortable featuring the foam ear tips. Noise-canceling features are also present along with inbuilt mic and control panel. Lastly, the earphones come with a 6 months warranty so it would be safe to invest in them.
If comfort is what you look for in-earphones then Mindorlen should be your first choice for the USB Type C earphones. They feel very comfortable as well as convenient in your ears and won't cause any fatigue after long hearing sessions.

Their sound quality is also impressive as they feature a good frequency range as well as provide balanced audio (clear and deep sounds). You will also find DAC in here along with inbuilt mic and controls which are easy to use. The earphones also show durability and you can rely on them for a long period of time without getting disappointed.
Razer Hammered is also a popular brand for USB C type earphones. The only different thing you will find in the earphones is that it won't rely on the Active Noise Cancellation system rather its ability to keep the outside noise away from the head is rely on the passive system.

The design of the earphones features the Bi-Flange Ear Tips and 10mm dynamic drivers. They are easy to use and features inline mic as well as the controls. You will also find tangle-free cable which makes it durable.
WamGra is another best USB type C earphones which are known for their ability to block out all the external noises and lets you enjoy your favorite music without any background chatter. It also features deep and clear sound making the sound quality right for you.

This one is also popular for its durability as well as comforting features. The earphones offer oxygen and sweat-free copper wires. The inbuilt mic as well as easy to use buttons makes the operation of receiving calls or music easy. Lastly, the earphones come with a lifetime of warranty which makes it easier for us to invest in them.
Well as we know google is also planning to remove the headphone jack from their phones just like most of the other top brands so they have also come up with an amazing solution with their own USB type C earphones. Even with the big brand name, the earphones are affordable and budget-friendly so you can easily buy them.

When it comes to sound quality, they won't disappoint you either as it features the 24-bit digital audio. Rich bass and clear voice is also an amazing feature of them. Quick access to the google assistance also makes a good point. Inline media controller is also present.
9. TriL USB type C Earbuds

If price isn't the issue for you and you just wanna buy the best USB type C Earphones then TriL is a perfect match for you. Starting with the comforting nature, you will find the earphones delicate, lightweight and a good fit for your ears causing no discomfort when you are wearing them. Their sturdy fit makes sure you don't have to readjust them again and again.

Its high-resolution audio is also a great feature that you would wanna have in your earphones. The earphones also feature maximum noise isolation meaning you can hear the music just the way it is intended to. Custom ear tips are also a good feature of them. The earphones are highly compatible with almost every device and its sleek and slim design is meant to be flaunted. Lastly, the earphones feature 12 months warranty.
10. One plus Type C bullets

One plus is a reputed as well as a trusted brand and since they also feature the phones without the headphone jack so they have come up with their own Type C headphones. Although the headphones are not compatible with every android phone but it makes a good option. It features a tangle-free cable. Its sound quality is also excellent and inline remote will too impress you.

The earphones are highly durable as they feature temperature resistance quality. The earphones also have dynamic drivers. It's a perfect type C earphones to have (if they are compatible with the device!).
11. Libratone Q Adapt

Libratone Q Adapt is our next choice for the best type C headphones. The earphones are sweat-free as well as comfortable in the ears. It features great sound quality for both music as well as calls. Noise cancellation is also a great feature of its. And lastly, the braided protective fabric makes it last longer. The audio customization options are also available. Although it is only for google devices, so if you own one, this should be the perfect choice.
12. Razer Hammerhead ANC USB C Earphones

Razer is a popular brand that has been producing great USB C type earphones. These earphones feature dual-driver technology. And for comfort, they have earbuds that are fitted with soft foam. Active noise cancellation and DAC are also featured. Overall it's a great option for type C earphones.
Conclusion

So these are the best type c earphones that we can find in the market right now. We have consider these earphones as our too choices due to the presence of the good features as well as the reviews from the customer who have bought the earphones earlier.

So if you are looking for the best type C earphones, these should be your first options. So here our article ends and we hope you found what you were looking for. Thank you for visiting the page.