Bluetooth is one of the best technology that has made our life a litter easier as we can easily connect the devices or transfer the data via Bluetooth. And that's why Bluetooth is one of the most important technologies that we have, but the problem is sometimes the blue tooth doesn't work on our computer.
The reason behind not working the Bluetooth can be because of the outdated device driver on your computer. It might seem like a big deal but it's really not. All you need to do is to uninstall the present device driver and install the Bluetooth Driver Installer Software.
There is plenty of Bluetooth Software present which you can install and run on your computer with Windows 10 Operating System. But not all of them are great ones and deserve your time and that's why you have to be careful when it comes to choosing the best Bluetooth Software for Windows 10. And it can be a bit troublesome to choose the best one, so here we have made a list of top 5 Bluetooth Software for Windows 10 that you can install on your computer and take advantage of Bluetooth technology.
Best bluetooth software for windows 10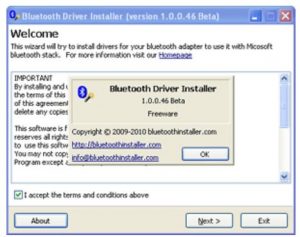 We didn't find any other software better than Bluetooth Driver Installer to start our list of best Bluetooth Software for Windows 10. This one is kinda like the generic Bluetooth Software for Windows 10 that you would love to use as this one will solve all the Bluetooth connectivity errors or other problems within a few minutes. The software comes with a restore point which is it's one of the best features as even if something goes wrong during the process, it will automatically restore all the unwanted changes.

Other than it's amazing features it also comes with an intuitive interface that is easy to use and nearly anyone can use it. This one will hopefully resolve all kinds of problems regarding your bluetooth so you don't have to worry about that. It's quick and works smoothly and you would hardly have any complaints from the software. Although you might be asked to install several add on software and you will also need to change your browser setting and optimize the search.
Intel Wireless Bluetooth is also a leading and one of the best Bluetooth Software for Windows 10. This one also does a pretty good job when it comes to solving the issues related to bluetooth connectivity on your PC. This one is pretty easy to use as well, once you download this software for windows 10, it will automatically detect the Bluetooth enabled devices and connects to your computer.

Intel Wireless Bluetooth Software brings all the updates and functionalities which will help you solve the bluetooth issues as quickly and effectively as possible. The software also supports multiple wireless adapters. Lastly, this software is compatible with both 34 bit and 64-bit operating systems so you don't have to worry about its compatibility with your windows 10 operating system.
3. WIDCOMM Bluetooth Software

Our next pick for the best Bluetooth Software for Windows 10 is WIDCOMM. It is a freeware software for desktop and laptop. This one is popularly known for resolving the bluetooth connectivity for a variety of devices. And the best part is it is available for free to download.

It comes with many powerful diagnostic and integration features and it offers a number of functions for a wide range of OEM ranges. It will automatically detect the bluetooth enabled devices and will connect them without you making any further efforts. Overall this one does worth a try and you would definitely find it impressive given its functions and effectiveness.
4. BlueSoleil

BlueSoleil is also a leading Bluetooth Software for Windows 10 and it has certainly impressed its users with its good amazing features that will help you to solve a number of issues regarding the bluetooth connectivity on your PC. It is developed by IVT Group.Inc.

The software also does a great job managing the bluetooth functions such as transferring files or connecting with a number of bluetooth devices. This one is certainly made for everyone as it features a user-friendly interface. Apart from this the software also supports more than 15 languages so it's beneficial for people with different language preferences.
5. Bluetooth Driver

Bluetooth Driver is developed by Acer (which is a leading tech company and makes some of the best laptops as well) so you will definitely be impressed by this one. We know how annoying it can be when the bluetooth doesn't work or you are not unable to connect devices, so this one would help you to fix the issues and enable the bluetooth devices to connect with your computer. It also transfers the files quickly and more efficiently.

Overall it's pretty easy to use and the software is also a great way to resolve the bluetooth issues and get your bluetooth working again. So you are looking for bluetooth software then you might wanna try out this one as well.
Conclusion

So these are our top 5 picks for the best Bluetooth Software for Windows 10 that you can rely upon. It's really important that you update the device drivers with the best driver updaters so that your computer works effectively.

We have chosen this software based on the review from the users as well as the result we got using them. So if your Bluetooth is not working then you can surely go ahead and choose any of the aforementioned Bluetooth software for windows 10 and we can assure you, you won't be disappointed.

Thank you for being with us and keep coming for more such review articles in the future as well.