Halloween is coming so is the spooky fun with it. What's better than an app that tracks ghost around you? On a spooky night like Halloween when all of them are dressed as spooky characters and the environment will gothic and spooky, ghost tracker apps will be a cherry on the cake. You can prank your friends with ghost app, here is the list of top ghost apps.
Best Ghost Tracker Apps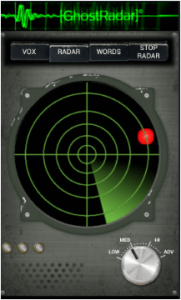 1. Ghost Detector Radar Simulator Android / Iphone

The best way to make a night out with your friends fun is to make it a thriller and horror night. This is the best ghost detector app which has the ability to detect spirits with communicator and it will also detect all kinds of paranormal activity. All you have to do is download this ghost detector app and follow the instructions, firstly you have to open the app and allow the camera access then start walking around the house slowly and try to see any spirit or any supernatural activity in your phone. The radar will tell you the directions and distance to the ghost. Lastly, when you have found the ghost you can talk to them and ask questions. It's a fun ghost app that you can use anywhere and its features are awesome as ever!
This ghost tracker app will detect the energies, as you all heard of negative and positive energies ho that can affect our life. It will simulate energy focus in the map of your city. It has been said by the paranormals that ghosts and spirits analyze the readings of several sensors. The equipments that is used in this app are, a magnetophone-  that will convert the sensor readings into sounds. Paranormal detector that will detect the presence of paranormal activity. Radar map, that will show the exact point of detected energy. And finally a ghost finder and ghost camera that will show you the images of ghosts and help you find the location! Overall it's a fun ghost tracker app that will give you the best time in pranking your friends and family.
3. Real Ghost Detector – Radar Android

If you are seriously considering to find ghosts and spirits around you then you should definitely ho for this ghost app. It is a radar-based app that uses the electromagnetic field around you to detect the unusual paranormal activity. It will use your mobile device sensors to measure the different bandwidth radiations that can help you find any unusual activity and presence of spirits, ghosts, and strong energies. Its different colored orbs will tell you a lot of things about the presence of paranormal energies around you. This ghost detector app's ability to find variations in the electromagnetic field is really good and shows you results in an amazing format.
4. Real Ghost Detector PRO Android

You won't find a better ghost tracker app than this one, it also uses your mobile sensors to find variable electromagnetic field that will help you find any changes and possibility of the presence of spirits, entities and all kinds of energy to tell you if you are surrounded by ghosts and spirits or not. It is a really fun app to use when you are thinking about bringing some thrill and spooky feeling when you are with your friends. Different color orbs are given to specify you the different kinds of energy around you, you can read and understand about these color orbs in notes page which will tell you what a specific color indicates about energies and ghosts around you!
5. Ghost Detector Pro Android

You will be thankful that we have introduced you to this ghost tracker app, it is now present with many new features and functions that will be more fun than ever! This ghost tracker app uses your device's sensors to detect various electromagnetic emission around you, it will indicate even the slightest change in your surroundings and if there is any kind of paranormal activity happening around you. It will show you a green dog whenever there is unusual electromagnetic emission.
6. Ghost Observer Ghost Detector & Ghost Radar App Android / Iphone

Are you planning to go on ghost hunting? Well, we are here to make it easy for you. This ghost detector app will not only help you find a ghost but it will also let you communicate with the ghost (disclaimer stay away from it if you are weak and get scared easily). This app will turn your camera into ghost finder and detector. You will be joining millions of other ghost hunters and other communities that are searching for paranormal activities. It is really easy to use, at the bottom of the ghost tracker app you will be given n alert if there is a presence of supernatural activities and ghosts with their locations. You will be given all the information about the ghost-like its age and its nature. You won't regret downloading this ghost app and you will enjoy your ghost hunting.
7. Spirit Radar Ghost Sensor Android

This is one of the best ghost tracker app that will tell you about the paranormal activities along with the spirit box and rituals. The rituals mainly help you summoning ghost within a room or small building. You can perform these rituals and summon any ghost you want. There are three categories of ghost given they are, safe, dangerous, and deadly. Spirit box will help you decry-pt the incoming data.
8. Ghost Detector – EM4 Sensor Radar For Pranks Android / Iphone

With a rating of 4.1 it is the most appreciated and recommend ghost detector app that you can find. It will use EM4 algorithm that shows accurate results. The new EM4 algorithm is more accurate and sensitive about any changes in your surroundings that will let you search for any paranormal activity that is happening around you. You will be following a signal that will indicate the location of spirits and ghosts in the most accurate way possible.
9. Ghost Hunting Tools (Detector) Android / Iphone

It is a great ghost detector tool that will analyze EVP and EMF meters. It will use a variety of sensors to give you access to the ghost and paranormal activity around you. It is a highly technical and uses many technologies to find out the specific energies around you. Additionally, you can also find out about the intentions of the spirit.
10. Spirit Radar Ghost Sensor PRO Android

If you wanna summon spirits and ghosts into the real world then you can definitely rely on this ghost app. It gives you a list of rituals that can be performed to summon ghosts. It is the pro version of spirit radar ghost sensor app. It will have lots of advanced features to find and track the ghosts. It has 2 new filters that are night vision and IR filter to make give you a better experience.
11. Ghost Radar : Classic Android / Iphone

This ghost tracker app is specially designed to detect paranormal activities. It has a great intelligence that won't be fooled by a simple burst of normal energies, it will only give analysis when there is a specific pattern indicated. It also has a voice feature that will let you know when an interesting word has been detected.
Conclusion

These were the best 11 ghost tracker apps to download on your smartphone and have fun with. These applications may or may not accurate so it is advised to use it for entertainment purpose.