Summer is coming and so is the unbearable heat! If you are hear we may guess AC is not an option for you this summer but don't worry because air coolers are the next best thing you can get to control the heat and stay cool and comfortable this summer!
But for that you will have to buy the best air cooler which has the best quality and is able to give you a cool and comfy environment! There are a number of great air coolers present in the market and you can easily get confused while buying one for yourself!
There are basically two types of coolers, they are, desert coolers and personal coolers. The former one is best suited in the dry heat and they are designed to use for the larger rooms. The water tank capacity of desert coolers is from 30 yo 50 liters. You can also use them in an open environment such as your terrace.
While personal coolers are made for the use of small to medium-size rooms and they are suitable for humid climate. They consume less energy than desert coolers as well as quieter than them. Their water tank capacity may range between 20 to 30 liters.
There are a number of things you will have to look at when selecting the best cooler for yourself! We have picked some features that you should definitely look into the cooler before buying it!
Water tank capacity: water tank capacity should be the first thing that you should notice in an air cooler. Its ability to cool your room for longer period is fully depend on its water tank capacity. You should know that bigger rooms require a bigger water tank capacity! You can easily find a wide range of water tank capacity in coolers and you can easily pick the one that suits your requirements.
Airflow: Airflow is another key factor that you need to consider while buying the air cooler for yourself! The airflow is generally measured in CFM (cubic feet per minute), it represents the amount of airflow in your room per minute. It's important that you buy a perfect air cooler that makes your whole room cool and comfy. You can easily calculate the CFM by dividing the cubic feet of your room by two! Apart from CFM, you can also look for the speed controllers in the air coolers as they can easily control the airflow in your room!
Cooling Pads: Cooking pads has a direct impact on the cooling system of your cooler as ultimately they will absorb the water and allow the air to come out cool. There are generally two types of cooler available Aspen and cellulose. Cellulose cooling pads have higher life and are low maintenance but at the same time, they cost a little more than the Aspen. Aspen on the other hand made of wood shaving and synthetic fibers, they are low maintenance but have a shorter life but they are cheap so people prefer them!
Do they work on inverter: Inverter coolers can be proven to consume less power than the regular one so you can also consider their dependency on inverter before buying one! They will be helpful for the people who face frequent power cuts.
Their design and size: There are a number of designs of cooler available and you will have a lot of opportunities while buying one for yourself. In the old days, the air cooler used to big and would take up half the space in the room but nowadays companies are making more space-efficient and sleek yet powerful cooler. There are also many types of coolers like tower coolers or window coolers so you can choose as per your convenience!
So we have picked the top 10 air coolers for home for you, so you can easily decide which one is perfect for your use!
Best Air Coolers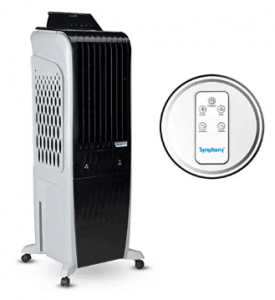 Symphony is one of the best air cooler companies we have in the country and that is why we are starting our list with its Diet 12T model which is one of the best personal air cooler. The airflow of the cooler is really great as it can perfectly cool a 100 ft room. the cooler comes with auto swing that can easily cool the whole room.

The cooler has 12-liter water capacity which is more than enough for small rooms. It works on 17watt of power which is quite good. Lastly, the cooler comes with wheels so you can easily shift the cooler in any room and it's lightweight too! It has cellulose cooling pads that are durable and effective. The coolers come with a 1-year warranty!
Crompton too is a well-known brand when it comes to the air coolers. As its name suggests, this one is a desert cooler with an impressive water tank capacity of 75 liters which would be more than enough for larger rooms.

This air cooler is best known for its ability to powerfully cool your room while taking significantly less space in your room. Don't get the impression that the cooler will make loud noises as it is a dessert cooler, instead, they are known for making a little sound at the level 1 and 2 (level 3 might be a bit noisy).

Overall if you are looking for a cooler for a larger room this might be your perfect choice as it is powerful as well as portable, lightweight and durable!
Our next pick for the list of best air coolers for home would be none other than Maharaja Whiteline Atlanto+ CO-110 Air Cooler. Its low noise fan and 3 level fan speed is enough to survive the unbearable heats in the drier area. The cooler comes with a 45-liter water tank capacity and a water level indicator.

The cooler features amazing air deflectors which spreads the air evenly in the room and make you comfortable. The cooler consumer 165Watt of power so you don't need to empty your pockets in order to feel comfortable in the heat.
If you are looking for the best air cooler under 5000 then Bajaj Coolesto Frio Air Cooler may be for first choice. This one is a personal type air cooler which has a 23-liter capacity water tank which would be enough for a small and medium room.

The cooler has an oval design and it significantly takes less space. The best part is, it can work on inverter so it will consume less power and you can enjoy the cooler even in the less power. The cooler is also portable with wheels so you can take it anywhere you want!
Symphony 3D 3Oi is one of the best air coolers under 10000. As your symphony is known for their innovative coolers and they have again stunned us with this great personally type cooler with 30 liters of water tank capacity.

This cooler comes with advance technology which will shut off the cooler at the times of voltage fluctuations. The cooler also has 2.5PM filters so you get fresh cool air.

The air cooler has easy to use control panel and it can also be controlled by remote as well. It only consumes 145 Watt power which makes it power efficient. Overall this would be your best buy this summer and you will be more than happy with its service.
Havells Freddo is also a great air cooler which comes with silent cooling technology that can cool your room without making much noise. The cooler also shows 3 side dust filters and it features honeycomb cooling pads. The water tank capacity is 70 liters so you can easily use it for larger rooms.

It's completely collapsible louvers would protect the cooler from dust and insects when it's not in use. Overall the cooler has many smart features that are not found in other air cooler and it will give the value for the money!
Symphony Ice Cube 27 is also a great air cooler under 7000. This personal air cooler features a powerful fan with a 3-speed motor so you can easily adjust the airflow and cooling as per your need. The water tank capacity is 27 liters which is quite great.

The cooler features really strong wheels for easy mobility. The best part is yet to come, which is its 105 w power-consuming ability, so use the cooler all day and night this summer cause your electricity bill won't bother you! The cooler works on inverter so you can don't worry about power cuts either!
KenStar is also a reputed name in the industry and you will certainly be impressed by this one too. With a number of advanced features like a drain plug to easily remove the water and its ability to swing and provide cool air in every direction of the is all you need.

The unique thing about the cooler is, it features wood wool instead of honeycomb which also effective in keeping your room cool. The water tank capacity is 50 liters and it also comes up with an inbuilt ice tray.
Bajaj Platini PX97 is a low budget air cooler for a larger room. The quality is quite impressive as it can easily provide a cooler environment for a larger room with its good directional deflectors.

The cooler also features 36-liter water tank capacity will be enough to get through the night so you can comfortably sleep in the cool environment! What more the colors take up not much space of your room and it's fans work at very low noise.
Our last but not the least nest air cooler on the list is from Hindware, the company is known for its quality product and they won't let you down with this one either.

The cooler has an inbuilt ice tray and 5 blade fan which is powerful enough to cool down a larger room in minutes. This might be one of the best air coolers under 10000 which you can find!
Conclusion

So these are the best air cooler that we have found after going through hundreds of them. You can easily get online or in stores (if they are available). These air coolers are inexpensive and environmentally friendly and lastly will be easy on your monthly bills.

So don't get confused more and buy the one that you think will better serve your needs in the upcoming summer season! We hope our article has helped you in making the right decision about which air cooler you want!